Celebrity cuisine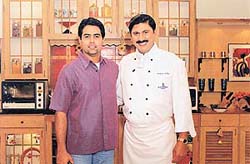 Chef Sethi & Aman Verma in Mirch Masala: Appetising fare

Food shows are an all-time favourite with a section of viewers. But when there is celebrity participation, they get even more savoury. That's the case with Mirch Masala on Star Plus, Sundays at 1 pm.
After a two-year run, the show has now come with a series where celebrities share their culinary skills with viewers. Aman Verma (Khullja Sim Sim & Kehta Hai Dil), Shweta Kawatra (Kahani Ghar Ghar Ki), former Miss India & VJ Manpreet Brar and popular model Amrita Saluja (Ice ice girl...) all come to teach a thing or two about cooking.
In the first segment, chef Rakesh Sethi rustles up a dish of his choice keeping in mind the theme of the episode, like Italian food, low cal food, kiddie snacks and the like. In the second segment, the guest is invited to present his or her choice of food.
The final segment comprises contests—Best Tip, Best Recipes — which, if selected, will be shown on the programme. The sender wins a bumper prize for that. Finally, there is a website contest every week where the viewers can win lots of prizes.
So, never mind if the celebrities are not Shah Rukh Khan and Sachin Tendulkar, what you have here is a very watchable cookery show.
Carry on doc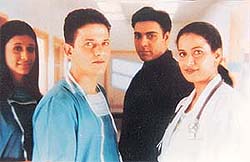 Mona Ambegaonkar (right) in Dhadkan: Quality performance

Ironically, even as the war of channels becomes fiercer, it is spawning a line of stars who were finding the going tough even a few years ago. Mona Ambegaonkar is one of them.
Some years ago, she was just a voiceover for a home video show. Then she got an offer from Just Mohabbat and that changed her life forever. Today, she is one of the hottest stars of the small screen.
Though Dhadkan on Sony may fall way behind the other medical drama Sanjivani on Star Plus, it is Mona who is making a difference here. Playing Dr Chitra in the serial, she gives a powerful and emotive performance.
In fact, the lady is displaying multifarious talents. She received the critics award for her role of a tough cop in the hit Marathi film Bindhaast. She is also acting in the Hindi-Tamil bilingual Ek Din Anjane Me, which also stars Mamoothy and Raveena Tandon.
But, she says, it is Dhadkan which has had a very deep impact on her. "Doctors lead very demanding lives and they always have to live up to the faith patients repose in them." Though there's a high element of personal lives of doctors here, the fact is she carries it off with her good acting.
Another dance act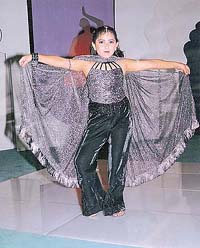 Kids get into the act in Laajawab Talent Show

It's become almost standard for most channels to have a 'talent' show where young people are judged by their ability to wiggle and shake a leg or two on the stage.
When Sony came up with Boogie Woogie, Star Plus instantly began lapping at its heels with the hugely popular Kya Masti Kya Dhoom. And now Doordarshan too is getting into the act.
In a bid to follow the leaders, DD-Metro has begun airing Laajawab Talent Show ,Saturdays 7 p.m, where young people aged between five and 22 display their dancing and crooning talents.
"This is the most watched young 'talent' show," claims producer-director Mehmood Munniraja. "Doordarshan has the kind of appeal which no other channel has. In fact, private channels are becoming so expensive that people are fast switching back to the national network."
Munniraja, who was an assistant to ace directors like Raj Kapoor and Prakash Mehra and has earlier done serials like Ek Anar, Sau Bimar and Dange, says that after the success of Laajawab Talent Show he has decided to completely switch to kiddie serials.
"They give me far more satisfaction than serials for grown-ups. Children are natural stars and have an appeal that cuts through all age groups. Once you have an intelligent script , you can achieve wonders." If a show that judges kids by their ability to dance and ape Bollywood stars is intelligent, one wonders what a dumb script would be!
Inside the ring of fire
Discovery brings viewers the first series ever to follow the exploits of a man as he travels around the world's largest ocean in Full Circle With Michael Palin, Saturdays 9 p.m.
This amazing journey took two-and-a-half years to complete and covered more than 80,000 kilometres through 18 countries. Beginning at the tiny island of Diomede in the Bering Strait. Here, Michael Palin and his crew of six, carrying 225 kg of equipment, set off on counter-clockwise trek to circle the Pacific, popularly called the 'Ring of Fire'.
The adventure follows Palin to a number of colourful destinations. Whether flying over Kronotsky National Park in Kamchatka in an old Soviet military helicopter or taking a river boat ride up China's Yangtze river to see the Three Gorges Dam, Palin takes viewers on an unconventional journey.
His sense of humor shines through in each episode. From his attempt at singing with the Russian Pacific Fleet Choir to a fast-paced bike ride through Ho Chi Minh City, Palin readily laughs at himself as he tries to adapt to each culture. And adapting to each culture is no easy task when there are so many places to visit and people to meet.
So, if you like travelogues, this is a one-of-a-kind mixture of laughter and adventure which will keep you glued to your TV set from the word go.
Animal shrinks
Everyone loves their pets. Their behaviour fascinates us and often makes us laugh. But when they start to drive their owner crazy, that's where Barking Mad steps in.
Unique among pet programmes, this series does not deal with the physical, but with the psychological welfare of pets. Animal Planet explores the reasons behind why animals behave the way they do.
While most pet owners experience fairly simple, easily solved problems — a dog that pulls at its leash or a cat that sprays in the house — others have more serious complaints. In this series, Philippa Forrester and Mark Evans lead a team of animal behaviourists on a mission to rescue the weary owners of problem pets.
Each programme features four or five behavioural case studies. After an initial consultation, the animal behaviourists make their recommendations and the pet's progress is monitored until you have a reformed pet in the house.
And any resemblance to human behaviour is not coincidental.
— Mukesh Khosla