M A I N N E W S
Drought: Centre sets up task force
Tribune News Service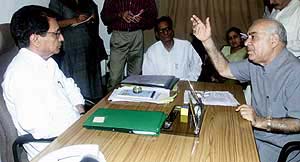 Union Agriculture Minister Ajit Singh having a discussion on the drought situation in Delhi and adjoining areas with MP and Delhi BJP President Madan Lal Khurana in New Delhi on Monday. — PTI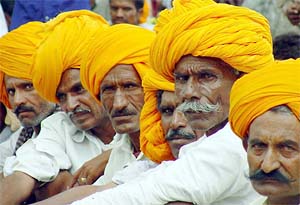 Farmers attend a rally in Bhopal on Tuesday. The farmers were protesting against the government for the lack of water supply and electricity allocated to the farmers, which is making cultivating their lands very difficult. — Reuters
New Delhi, July 30
Describing as 'serious' the prevailing drought conditions in the country, Finance Minister Jaswant Singh today announced setting up of a special task force by Prime Minister Atal Behari Vajpayee under the chairmanship of Deputy Prime Minister L.K. Advani to carry out relief work in the affected states on a war footing.
The task force would have a four-point agenda to deal with the grave situation, Mr Jaswant Singh told the Rajya Sabha during zero hour after members, cutting across party lines, demanded immediate steps to tackle the severe drought and floods in the country.
He said the four-point agenda would be proper water management, nutrition of people in affected areas, provision of employment and creation of assets.
Giving further details he said besides Mr Advani, the task force would comprise Union Ministers of Finance, Agriculture, Food and Civil Supplies and Rural Development.
The minister said the government had prepared a contingency plan as early as July 18, when there were signs of drought and the situation was becoming worse.
The states where the situation was serious because of the failure of the monsoon were Punjab, Haryana, Rajasthan, Andhra Pradesh, Karnataka, Maharashtra and Uttar Pradesh, he said, adding that he had had a meeting with the Chief Ministers of Andhra Pradesh and Karnataka.
Along with drought, the country was also facing floods in states like Assam and Bihar, Mr Jaswant Singh said, adding that some areas in Bihar had been hit by the overflowing of rivers in Nepal.
To the demand of the Leader of the Opposition Manmohan Singh that the Centre should come out with adequate financial assistance for Assam, which was not only facing unprecedented floods, but a financial crisis, the Finance Minister said he was aware of the difficult situation there.
Announcing the constitution of a committee under his chairmanship to improve the financial health of states, Mr Jaswant Singh said the Assam Finance Minister was also a member of the committee which would submit its recommendations by September 30.
The issue was raised by TDP member Alladi Rajkumar. He sought the immediate intervention of the Prime Minister to deal with the grave drought situation in the state.