Sidhu's mother, brother declared POs
Patiala, July 30
A local court today declared relatives of suspended PPSC Chairman Ravinder Pal Singh Sidhu, including his mother Pritpal Kaur, brother Reetinder Singh and sister-in-law Ajinder Kaur as proclaimed offenders even as former Secretary of the commission, Pritpal Singh, filed an application for regular bail in the same case.
Badal sets agenda for stir


Chandigarh, July 30
The Shiromani Akali Dal President, Mr Parkash Singh Badal, today outlined the agenda for dharnas to be organised by the party at the district headquarters on August 9. In a statement here, Mr Badal said people were suffering under the disastrous and short-sighted policies of the Congress regime.


Though the monsoon is still eluding the northwest part of India, the Rajasthani community of the Rakhbagh area in Ludhiana celebrates the 'Teej Festival' on Monday. — PTI
Defer recovery of payments, PSEB to ask Centre
Patiala, July 30
A cash-strapped Punjab State Electricity Board has decided to ask the Union Power Ministry to defer the recovery of payments due from it on account of power and coal purchases as well as the railway freight bill because of an acute financial crisis.
HIGH COURT
Show cause to Punjab in Kaunke case
Chandigarh, July 30
A Division Bench of the Punjab and Haryana High Court today directed Punjab's Home Secretary to be present in court and explain why an undertaking regarding examination of Kaunke disappearance case by an "independent senior officer" within two months had not been honoured.
Lok Adalats can't decide cases

No pre-arrest bail for Tangri's son
Baba Dhanwant ready to reappear before Takht
Amritsar, July 30
In a significant development Baba Dhanwant Singh, chairman, Noor Vishav Roohani Charitable Trust, who is facing rape charges, has said he is ready to reappear before Akal Takht to prove his innocence.

Poll, not police, will work in J&K: Mann
Barnala, July 30
Abandoning the military and police approach, a political solution to the vexed Kashmir problem is the only answer to terrorism in Jammu and Kashmir.
Punjab tourism to get fillip: Khanna
Gurdaspur, July 30
Mr Vinod Khanna, Union Minister of State for Tourism while addressing a gathering at Institute of Hotel Management Catering and Nutrition here today said the Central Government has accorded top priority to the tourism sector. Even the Prime Minister of India had mentioned this in his various speeches.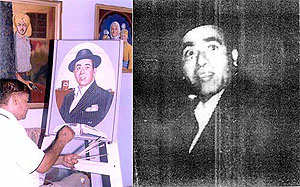 Painter Gobinder Sohal gives the final touches to a portrait of Shaheed Udham Singh Sunami based on Udham Singh's only picture published in 1940 (the black and white picture on right), presently with London library. — PTI
Fertility level falls further in Punjab
Chandigarh, July 30
A woman in Punjab can now bear only 2.2 children during her lifetime, which is 0.1 per cent more than the national goal of 2.1 children per woman required to achieve the replacement level of fertility.
HC notice of motion
Chandigarh, July 30
Taking up a petition filed by a Ludhiana resident claiming that he was being threatened by the CBI to become a witness against Chairman of Dealer Selection Board Justice M.R. Agnihotri in petrol station allocation case, Mr Justice Ashutosh Mohunta of the Punjab and Haryana High Court has issued notice of motion for August 12.
Definition of 'ex-servicemen' expanded
Chandigarh, July 30
In a major concession to defence services personnel who had been released from the armed forces on their own request, the Punjab Government has decided to accord them the status of ex-servicemen for all purposes.
JEs wear black badges
Patiala, July 30
Junior Engineers today observed protests in front of all subdivisional offices of the Punjab State Electricity Board against the board management's decision to defer payment of 25 per cent their salary for the months of July and August.
Bank ex-MD booked in fraud case
Amritsar, July 30
The police here today filed a charge sheet against Mr Surinder Pal Singh Chhinna, former Managing Director of the Central Cooperative Bank, in a case of embezzlement of more than Rs 3 lakh collected in the name of Kargil fund.
Case against SI for torture
Bareta (Mansa), July 30
On the directions of the Punjab and Haryana High Court, the Bareta police has registered a case under Sections 323 and 342 of the Indian Penal Code against Sub-Inspector Jalor Singh, former Station House Officer of Bareta police station, on a complaint of Kala Singh.
Man, 3 sons get life term for murder
Bathinda, July 30
Balwant Singh and his three sons, all residents of Gill Patti village were today sentenced to 20 years' life imprisonment after they were found guilty of murdering their close kin, Kuldeep Singh, by Additional Sessions Judge Jaspal Singh.
Man kills wife, father-in-law
Bager Mohobbat (Bathinda), July 30
In a bizarre incident Iqbal Singh, a resident of the village, today killed his wife Chinderpal Kaur and father-in-law Bhajan Singh with a spear following a quarrel.
Rs 2 lakh looted from bank
Ludhiana, July 30
Three armed robbers looted Rs 2 lakh from the Punjab and Sindh Bank near Halwara this afternoon. The robbers who came in a car were armed with a stengun and a pistol.
Two sarpanches booked for fraud
Muktsar, July 30
Even as the investigation being conducted into the alleged misuse of funds given during sangat darshan programmes by former Chief Minister Parkash Singh Badal is yet to be completed the district police has booked two sarpanches, a panch and a president of the mahila mandal for their involvement in the misappropriation of funds.


Staff shortage may lead to cut in seats in dental colleges
Faridkot, July 30
Even as the authorities are contemplating a cut in the seats of private dental colleges in Punjab following a shortage of faculty, students who had appeared for entrance tests for admission to medical colleges are a worried lot as some of these colleges are still awaiting approval by the Union Ministry of Health.
Punjabi varsity results out
Patiala, July 30
Punjabi University today declared results of examinations of M.Sc II Botany, M.Sc II, (Sports Science), M.Sc II (Statistics) M.P.Ed (second semester), MFC, (second semester), M.A., Part-I (Education) M.A. I (Dance) M.A. II (Folk Art and Culture) B.P.Ed I, BSc (Home Science) Part one and Two, BSc III (Agriculture) and B.A. (Honours).
MCA students meet CM
Patiala, July 30
A delegation of more than 200 MCA students of various institutions affiliated to Punjabi University met the Chief Minister at the Punjab Bhavan and urged him to take immediate steps to solve the problems related to the validity of degrees to be awarded to them by the university.