SAS NAGAR DIARY
Mukhya dak ghar inaugurated
SAS Nagar, August 5
There is good news for as many as 36,888 various account holders in Mohali post offices. The Principal Chief Post Master General, Punjab, Chandigarh and Himachal Pradesh, Mr Vijay Bhushan inaugurated the "Mukhya dak ghar" at the existing sub post office in Sector 55 here today which will now provide these account holders the facility of updating of passbooks, closure of accounts etc on the spot.
TO BE OPERATIONAL FROM AUG 15
New system to ease power-related woes
Chandigarh, August 5
City residents will get an Independence Day gift from the Chandigarh Administration by way of a professionally managed power supply system. The administration in collaboration with a private party has set up a round-the-clock call centre which will have a common telephone number to register power complaints for the entire city.
Jacob lays stone of hostel for physically challenged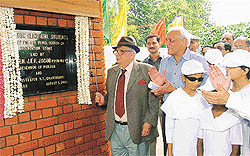 Chandigarh, August 5
The UT Administrator, Lieut -Gen J.F.R. Jacob (retd), today asked the Chandigarh Administration to issue instructions to all departments to identify posts at which the talent of the physically challenged could be utilised so as to provide them 3 per cent reservation in all jobs.
Lieut Gen J.F.R. Jacob (retd), UT Administrator, lays the foundation stone of a girls' hostel at the Institute for the Blind in Sector 26, Chandigarh, on Monday.
— A Tribune photograph

DENIAL OF SC CERTIFICATES
BSP to raise issue in Parliament
Chandigarh, August 5
The Bahujan Samaj Party members of Lok Sabha and Rajya Sabha will jointly take up the issue of denial of Scheduled Caste certificates in the city in Parliament.
Philatelic bureau to promote culture
Chandigarh, August 5
The Postal Department has decided to open philatelic bureaux to encourage school children and young persons to purchase postal stamps that would depict national and regional cultures.
FAUJI BEAT
Veer Smriti — a symbol of sacrifice
THOUGH Headquarters Western Command moved to Chandi Mandir in 1985, no war memorial came up in the present location until 1998. It was a former Army Commander, Lieut-Gen H.B. Kala, who felt the necessity of having a war memorial at Chandi Mandir cantonment.
'Realisation of God important'
Chandigarh, August 5
"We read, recite and chant hymns of holy scriptures but forget that the great prophets and masters who wrote these sought the world to follow and act upon these,'' said Rishi Vasdev Rai, preacher of the Sant Nirankari Mission, while addressing a religious congregation here today.
4 of family killed in mishap
Panchkula August 5
Tragedy struck the family of a former employee of The Tribune, Mr Vishnu Dutt, when his young daughter and son-in-law, were killed in a road accident in Jugiana village near Ludhiana late last night.
Jain flays Mayor's remarks on migrant labourers
Chandigarh, August 5
Former BJP Lok Sabha member Satyapal Jain today termed the reported demand of Mayor Lalit Joshi for a check on the entry of migrant labour in the city as violative of the Constitution.
Assessment of loss due to draught begins
Panchkula, August 5
The district administration has begun a special girdawari to assess the loss caused by draught.
Govt staff to wear black badges
Chandigarh, August 5
Punjab Government and UT Government employees will wear black badges from August 12 to August 20 to protest against the "anti-employees' policies" of the state government.