Sunday, August 11, 2002, Chandigarh, India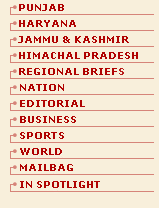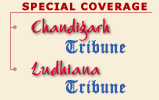 B U S I N E S S
Govt likely to delay PTL disinvestment
New Delhi, August 10
The Punjab Government could do well to postpone the proposed disinvestment of the tractor manufacturing major Punjab Tractors Limited (PTL), as the not-so-conducive industry scenario coupled with the drought situation was unlikely to fetch the government the expected price of Rs 300 crore for offloading 23.49 per cent stake in the company, industry observers here have warned.
Forex reserves cross $ 60b mark
Mumbai, August 10
The consistent rise in foreign currency assets lifted the country's foreign exchange (forex) reserves above the $ 60 billion-mark to a record high of $ 60,148 million during the week ended August 2.
Tatas: TFL row not corporate fraud
New Delhi, August 10
Hit hard by the controversy over Rs 500 crore scam in its finance company, the Tatas today launched an advertising blitz saying they have the moral courage to lay bare the misdeeds of the management and claimed that the issue could not be compared with corporate frauds worldwide.
Farm loans not beneficial for farmers
Chandigarh, August 10
One may feel why the recent announcement of Mr Ajit Singh, Minister for Agriculture, to reschedule agriculture term loans in the drought-hit states has failed to provide a little respite among farmers. Rather, it is banks that have hailed it. Bank officials said the rescheduling of crop loans worth thousands of crores would provide them an assured income at a time when there are few takers for credit in the industry or the other sector.
Tax collection up 20 pc
August 10, 2002
DCA to probe Tata Finance accounts
August 9, 2002
Hero Cycles ties up with Japanese firm
August 8, 2002
Oil PSUs to benefit from govt decision
August 7, 2002
SEs helpless against defaulting firms
August 6, 2002
Despite recession, prices of plots up
August 5, 2002
Jaswant promises help to drought-hit states
August 4, 2002
Financial situation of Punjab may worsen
August 3, 2002
Birlas sell MRPL stake to ONGC
August 2, 2002
Reliance Ind net surges 17 pc
August 1, 2002
SBI net profit soars 31.64 pc
July 31, 2002