Talks on devolution of powers to J&K held
New Delhi, August 10
The crucial second round of talks on devolution of powers to the Jammu and Kashmir Government were held here yesterday when the state government explained the legal, constitutional and political aspects of its demand for greater autonomy.
Ultras threat forces Red Fort closure
New Delhi, August 10
The threat from Pakistan-based terrorists has forced the authorities to close the historic Red Fort for the general public well ahead of the Independence Day when Prime Minister Atal Behari Vajpayee will become the first non-Congress Prime Minister to hoist the national tricolour for the fifth consecutive year.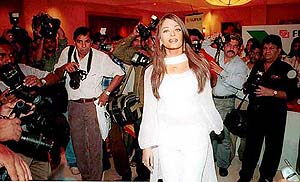 Aishwarya Rai poses for photographers in Mumbai on Friday. — PTI
BJD suspends three MPs
Bhubaneswar, August 10
Orissa Chief Minister and Biju Janata Dal (BJD) President Naveen Patnaik today suspended three Lok Sabha members from the party for indulging in anti-party activities.
Trinamool divided over dharna
Kolkata, August 10
Uncertainty prevails over staging a dharna before the Prime Minister's residence at 7 Race Course Road in New Delhi on August 12 which the Trinamool Congress leader, Ms Mamata Banerjee, has planned against the Eastern Railway's bifurcation. Some 140 Trinamool workers, mostly MPs and MLAs, are likely to participate.
President hosts banquet
VHP urges Kalam to visit J&K refugee camps first
New Delhi, August 10
President A.P.J. Abdul Kalam tonight hosted a banquet for Prime Minister Atal Behari Vajpayee and his entire Council of Ministers -- a development which though routine assumes significance in view of the fact that it comes barely two days before his visit to Gujarat.
Manmohan hosts lunch for Oppn leaders
New Delhi, August 10
Leader of Opposition in Rajya Sabha Manmohan Singh today hosted a lunch for Opposition leaders supporting the candidature of Mr Sushil Kumar Shinde for the August 12 vice-presidential elections.
Sahib Singh hurt in mishap
New Delhi, August 10
The Union Minister of Labour Sahib Singh Verma was admitted to the Apollo Hospital after he suffered minor injuries in an accident while returning from a function in Faridabad, here today.


Delhi HC directive on matrimonial ads
New Delhi, August 10
The Delhi High Court has directed newspapers to publish a piece of advice recommending readers to verify contents of matrimonial advertisements. Mr Justice S.N. Kapoor said the advice aimed to guard against misrepresentations that may be made in some matrimonial advertisements.
EC team visits riot-hit areas in Baroda
Baroda, August 10
The three-member Election Commission team, led by the Chief Election Commissioner (CEC) Mr J.M. Lyngdoh, today visited the Kisanwadi, Best Bakery and the Rajarani Talao areas of the city, which were badly hit by the recent communal violence in Gujarat.
President can talk to MPs: SP
New Delhi, August 10
The Samajwadi Party today backed the President, Mr A.P.J. Abdul Kalam's, reported move to address MPs and argued that the President had "every right to talk to those who have elected him."
CBI detects assets worth 9.5 cr
New Delhi, August 10
The CBI today detected cash, investments and property worth Rs 9.5 crore during countrywide raids in 40 cities and registered cases against several government officials, including the Additional Private Secretary to the Minister of State for Chemicals and Fertilisers, Mr Tapan Sikdar.
Hazare vows to fight corruption with silence
Ralegan-Siddhi (Maharashtra), August 10
Anti-corruption crusader and Magsaysay awardee Anna Hazare has vowed to embark on a "silent satyagraha" from September 21 if stern action is not taken against "corrupt" ministers in the Democratic Front government''.
Gateway to Taj opposed
Agra, August 10
Some historians and tour operators have expressed their dismay over a proposal for making a new gateway to gain entry into Taj Mahal.
Business tycoon Mallya joins JD(U)
Bangalore, August 10
Business tycoon Vijay Mallya, a Rajya Sabha member, today formally joined JD(U) and was appointed as the party Senior Vice-President.
Paramhans rejects HC suggestion on excavation
Jaipur, August 10
Ram Janma Bhoomi Nyas Trust president Ramchandra Das Paramhans yesterday rejected High Court's suggestion for excavation at the disputed site at Ayodhya to ascertain whether a Hindu temple existed there, saying the Ram Lala idol could not be shifted to facilitate digging.



Videos
Explaining her inability to appear before the TADA court hearing the 1993 Mumbai bomb blast case, former actress Praveen Babi in a exclusive interview to ANI revealed that she faced "serious threats to her life".
Tape 1, Tape 2, Tape 3, Tape 4, Tape 5, Tape6, Tape 7, Tape 8, Tape 9
Gopmahal, a remote village in West Bengal, still has palanquins as a regular mode of transport.
(28k, 56k)
Here is an ox that yields milk! Unnatural, isn't it? The phenomenon has left villagers puzzled as most of them see it as a reincarnation of the bull god "Nandi". The ox with normal udders yields one liter milk every day.
(28k, 56k)