Monday, August 12, 2002, Chandigarh, India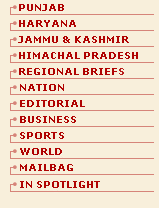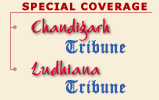 B U S I N E S S
Y O U R M O N E Y
A GUIDE TO PERSONAL FINANCE
Vanishing IT trainers, perishing profits
The demographic curve of computer-training institutes is all skewed in Chandigarh and vicinity. Their mortality rate has been high. Then this is just a mirror reflection of whatever is happening in India.
Vanishing act
Courses in vogue
What to learn

Faculty and self-help
Fee structure
Market share
| | | |
| --- | --- | --- |
| | PREPARING FOR RETIREMENT | |
Start early for a good retirement
Ludhiana
Preparing for a retirement is the same as building a financial house; it should start around the fifth year of earning, but the shape and size of the financial house you build varies from person to person, based on several factors like the size of the family, place of settlement, etc.
Q: My husband was granted Shoryachakra (Posthumously). I am getting family pension from the Army which is exempt from Income Tax under Section 10 (18) of the Income Tax Act, 1961.


| | | |
| --- | --- | --- |
| | MARKET SCAN | |
No early revival in sight
Erratic monsoon rains causing drought in large parts of Northern India and gloomy reports of bankruptcy in the corporate section in the USA were bound to have their impact on the Indian stock markets.


| | | |
| --- | --- | --- |
| | CHECKOUT | |
Frustrating experiences of online shopping
Thanks to the internet, sitting in your home or office, you can buy anything from books and compact discs to clothes and jewellery from anywhere in the world. You can plan your travel itinerary, make hotel reservations, buy rail and air tickets.


Three hundred foreign and local companies take part in a technology exhibition amidst tight security in Karachi.


(28k, 56k)
Govt likely to delay PTL disinvestment
August 11, 2002
Tax collection up 20 pc
August 10, 2002
DCA to probe Tata Finance accounts
August 9, 2002
Hero Cycles ties up with Japanese firm
August 8, 2002
Oil PSUs to benefit from govt decision
August 7, 2002
SEs helpless against defaulting firms
August 6, 2002
Despite recession, prices of plots up
August 5, 2002
Jaswant promises help to drought-hit states
August 4, 2002
Financial situation of Punjab may worsen
August 3, 2002
Birlas sell MRPL stake to ONGC
August 2, 2002