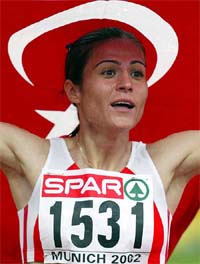 Sureyya Ayhan of Turkey celebrates with Turkish flag after winning the women's 1500 meters final race at the European Athletics Championships in Munich on Sunday. Ayhan of Turkey won the European title in a time of 3 minutes and 58.79 seconds.
— Reuters
'Forget awards, improve infrastructure'
New Delhi, August 12
Commonwealth gold medal winning shooter Samaresh Jung says instead of announcing hefty cash rewards for medal winners, the government should have utilised that money for providing better facilities to the sportspersons.
Dhumal honours sportspersons
Shimla, August 12
Chief Minister P.K. Dhumal, honoured outstanding sportspersons at a glittering function here today.
Indian relay team nets gold
Colombo, August 12
Women relay runners won India its first and only gold medal to finish 10th in the 14th Asian Athletics Championships that ended here today. The day also saw India winning a silver in the men's 4x400 relay at the Sugathadasa Stadium.
Woods claims Buick Open title
Grand Blanc, August 12
Tiger Woods shot a 2-under 70 yesterday to win the Buick Open by four shots at 17 under. It was his 33rd PGA Tour victory and fourth in his last eight starts. Esteban Toledo, who began the final round one stroke behind Woods, stayed with the world's best golfer through 12 holes, but then collapsed with three straight bogeys.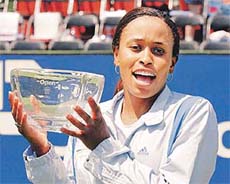 Rubin upsets Davenport
Manhattan Beach, August 12
Chanda Rubin of the USA upset No. 3 American Lindsay Davenport 5-7, 7-6,(7/5), 6-3 to win the $ 585,000 WTA Los Angeles Open yesterday in a final between two players making comebacks from knee surgery.
Chanda Rubin, from Lafayette, holds the championship trophy after defeating Lindsay Davenport, from Laguna Beach, 5-7, 7-6(5), 6-3, in the JP Morgan Chase Open on Sunday in Manhattan Beach. — AP/PTI photo
Bhupathi-Mirnyi duo loses
New Delhi, August 12
Mahesh Bhupathi and Max Mirnyi had their winning run snapped in the doubles event of the ATP Tennis Masters Series at Cincinnati yesterday.


Amritraj qualifies
Michigan, August 12
Second seeded Prakash Amritraj, son of Vijay Amritraj, qualified for the main draw of the US Open when he won the USTA Super National Boys' 18 Championship.

LG Cup win a team effort: coach
Kolkata, August 12
Chief coach Stephen Constantine today attributed India's triumph in the LG Cup football Tournament in Vietnam to team effort and said it would go a long way in helping the country regain its lost ground in the football map of Asia.
Surender to lead Haryana
Chandigarh, August 12
Mr Surender Singh of Hisar district will lead the Haryana contingent in the North Zone Jr Athletic Championship to be held at Meerut on August 23 and 24, according to Mr H.S. Bhadu, Secretary, Haryana State Amateur Athletic Association.