Thursday, August 15, 2002, Chandigarh, India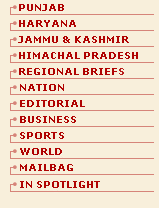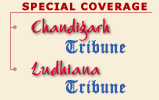 Killer rain showers destruction
Villages flooded, 2 die in roof collapse; houses crumble down
Panchkula, August 14
A woman, Prema Devi, 41, and her 17-year-old son, Thakur Dass, were killed and another member of the family was injured in a roof collapse at Pinjore because of the continuous rain here today. The woman and her son were sleeping in their Rathpur Colony house when the roof caved in. With them were the woman's 14-year-old daughter, Sharda and elder son, Ramesh.


ADMN STUCK AND ON ALERT

RAIN: MUCH AWAITED, MUCH HATED

TRAIL OF DESTRUCTION: This was a two-storey building that came crumbling down in Hem Vihar Colony, Bartana, due to a heavy rain on Wednesday.
— Tribune photograph
Jacob inaugurates leaking maternity wing
Chandigarh, August 14
The Punjab Governor and UT Administrator, Lieut-Gen J.F.R. Jacob, inaugurated a leaking 30- bed maternity wing at the Sector 22 Community Health Centre, here today. The wing, constructed at a cost of Rs 80 lakh on the first floor of the Sector 22 Polyclinic, was planned to take the load off the General Hospital.
PU students call off strike
Chandigarh, August 14
The ongoing agitation of students in Panjab University ended here today with the university authorities acceding to a many of their demands. The university agreed to give a re-appear chance to MBA students at the earliest so that the result is available before their placement interviews.

The Tribune greets its readers on Independence Day
UT IAS officer faces dismissal
August 14, 2002
Pauper MC given share in revenue
August 13, 2002
Watery grave for pilgrim brothers
August 12, 2002
Armed robbery in two houses
August 11, 2002
Teaching work remains paralysed on PU campus
August 10, 2002
Brown sugar worth Rs 2 cr seized
August 9, 2002
Missing woman traced in Uttar Pradesh village
August 8, 2002
MC development projects in jeopardy?
August 7, 2002
Allottees surrender plots to HUDA
August 6, 2002
PU disqualifies 13 students for submitting fake certificates
August 5, 2002