THE TRIBUNE MAGAZINES
On alternate Mondays

On Sundays
On Saturdays

IN PASSING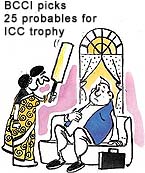 If you want to earn more, then start playing cricket!
by Sandeep Joshi
SHIVANI MURDER CASE
Medical proof on accused sought
New Delhi, August 21
A Delhi court today directed the Delhi police, investigating the Shivani Bhatnagar murder case, to present proof of medical examinations conducted on accused Pradeep Sharma while in 14-day police remand.
PM's no to SGPC jatha for Pak
Amritsar, August 21
Prime Minister Atal Behari Vajpayee has refused to accept the demand of the SGPC to send a jatha of kar sevaks to Pakistan for the maintenance of Sikh shrines.
Gujarat poll: SC hearing on Aug 26
New Delhi, August 21
The Supreme Court will hear on August 26 the Presidential reference regarding the standoff between the Vajpayee government and the Election Commission over early Assembly elections in Gujarat.


40-yr-old tractors still in service
Polluting Holy City of Amritsar
Amritsar, August 21
Weaponry used during the Indo-China and Indo-Pak wars may have found its way into museums, but most of the tractors and lorries bought in 1962 and 1965 for the removal of garbage here are still on the road, emanating pollution.

A Massey Ferguson tractor bought by the Amritsar Municipal Corporation in 1962 collects garbage in Amritsar.
— Photo Rajiv Sharma
SC gets presidential reference on Gujarat
August 21, 2002
J&K poll on schedule
August 20, 2002
EC's order referred to President
August 19, 2002
BJP says EC creating constitutional crisis
August 18, 2002
Pramod to file defamation suit
August 17, 2002
We will defeat terrorism: PM
August 16, 2002
Kalam calls for 'second vision'
August 15, 2002

Amarnath yatra halted
August 14, 2002

Rehabilitate riot-hit, Kalam tells Modi
August 13, 2002

Gujarat situation quite delicate: CEC
August 12, 2002

Hurriyat sticks to poll boycott decision
August 11, 2002