'Compliance of IT Act gaining acceptance'
Chandigarh, August 25
The simplification of the Income Tax Act and an increased level of awareness among the middle class have enhanced the collection of income tax in the region. The people friendly approach of the IT Department had also encouraged the assesses to pay their taxes.
BJP burns effigies of Sonia, Ambika, Bansal
Chandigarh, August 25
The local unit of the BJP, led by BJP national secretary Om Prakash Dhankar, today burnt effigies of Ms Sonia Gandhi, Ms Ambika Soni and Mr Pawan Bansal and staged a two-hour dharna at the school site in Sector 40, allotted to the Heritage Society.


Art of keeping your wife happy
Chandigarh, August 25
For those who are not finding happiness at home because of an unhealthy relationship with the spouse, here are some tips from two persons who spoke today on the delicate art of keeping one's wife happy.
Augmentation work disrupts power supply in town
Panchkula, August 25
The Uttar Haryana Bijli Vitran Nigam began augmentation of a 12.5-KV transformer at the Industrial Area substation this morning. This resulted in power disruption in most parts of the township.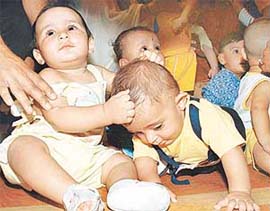 Baby show in Food Craft Institute
Chandigarh, August 25
Dressed in laces and frills, little childrens put their best foot forward at a baby show organised at Food Craft Institute, Sector 42, here today. As many as 200 children participated in the contest. On the basis of age, they were divided into five categories.
Chubby babies cuddle together on the occasion of a baby show in the Food Craft Institute, Sector 42, Chandigarh, on Sunday. Photo Pankaj Sharma
District Congress Committee (R) office-bearers
Chandigarh, August 25
The constitution of the District Congress Committee (Rural) has been completed with the appointment of six each of vice-president, general secretary, secretary and block president.
Condition of HP accident victims stable
Chandigarh, august 25
The condition of the three residents of the city, who were admitted to the PGI after being injured in a bus accident near Dharampur in Solan district today, is stable.