MOVING FINGER
For God's sake, do not be mute spectators
THERE have been some recent cases of bold kidnappings and rape of young women in the national Capital which have made citizens sit up and review the state of law and order and the status of women in this city. Of particular concern were two cases in which a young woman was forcibly lifted into a vehicle in the Delhi University area and raped by four persons in the moving vehicle and then dumped on the roadside.
House hunting

Urban jungle

Minorities' panel

The society

Safe flyovers

Smoother traffic
Haryana Govt staff unions to hold joint rally on Sept 1
Sword of retrenchment forces warring SKS, HKM to join hands
Faridabad, August 25
State government employees and their leaders opposing the policies and attitude of the Chautala regime regarding retrenchment, privatisation, contractual system of employment and alleged victimisation of the staff seem to be in an upbeat mood. After the formation of a Joint Action Committee (JAC) of the two leading federations, representing over four lakh state government employees, the employee leaders are busy in organising a rally at Jind on September 1.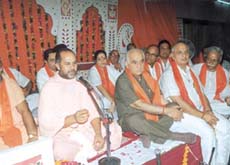 Delhi BJP president Madan Lal Khurana and local industrialist R. C. Jain were among those who participated in a religious meet organised by the Hindu Parv Samiti of Sadar Bazar in the Capital
Four child prisoners escape after assaulting warden
Sonepat, August 25
Four child prisoners reportedly escaped from the Bal Sudhar Grah (Children's Home) after injuring a warden, Mr Balram, here last night. According to a report, the prisoners have been identifiede as Updesh, Krishan, Vinay and Kamlesh. The police have registered a case against all the prisoners and launched a massive hunt to apprehend them.
Tri Nagar councillor missing
New Delhi
Atma Ram Gupta, councillor of the Municipal Corporation of Delhi from Tri Nagar, has been reported missing since yesterday. A report of abduction has been lodged in the Keshavpura police station.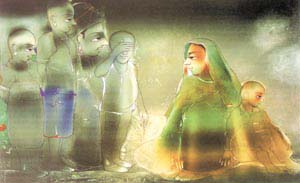 'Family Ties IV' by Dharmendra Rathore
Fire in two factories
New Delhi, August 25
Property worth thousands was destroyed in two separate fire incidents in Udyog Nagar and Tikri Kalan in the city last night.
NCR BRIEFS
Married woman raped in broad daylight
Rewari, August 25
A young married woman was allegedly raped in broad daylight by a youth in Kanwali village under the Jatusana police station in the district on Friday. It is stated that the woman was returning home after washing clothes at a well in the afternoon. She was overpowered and raped by a village youth near the tubewell. On reaching home, she narrated the incident to the members of her family who made a complaint to the police.
Electrocuted

Girl ends life

Lawyers' fund

Working on Sunday