Monday, September 9, 2002, Chandigarh, India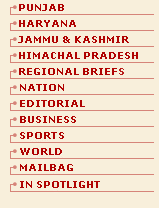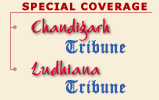 20,000 carrying hepatitis B in city
Fund crunch increasing spread
Chandigarh, September 8
Even though, in Asia, the spread of hepatitis-B is more alarming than that of AIDS, lack of funds and non-inclusion of the hepatitis-B vaccine in child immunisation programmes have doctors worrying.
Bid to revive militancy; 3 held
SAS Nagar, September 8
With the arrest of three persons, the Ropar police has foiled a plan to revive militancy in Punjab. According to a press note issued here today by Mr Gurpreet Singh Bhullar, Senior Superintendent of Police, the three persons were arrested at two checkpoints, one at Kurali and the other at Morinda.
Chinks in PU exam armour
Chandigarh, September 8
Despite having made a commendable progress in updating the slackened process of examination during the past few years, Panjab University still has to tighten up its working in straightening out certain procedural lapses which put students at the receiving end.
Mixed response to Jan Shatabdi timings
September 8, 2002
PU in dilemma over charge against principal
September 7, 2002
Admn, MC sweat it out to clear trail of destruction
September 6, 2002
'Sick' equipment keeps GMCH patients in queue
September 5, 2002
Admn losing crores annually in stamp duty evasion
September 4, 2002
Police schemes for senior citizens come a cropper
September 3, 2002
60-yr-old widow done to death
September 2, 2002
Datesheet waits for student poll
September 1, 2002
MCC in financial mess
August 31, 2002
Will Panjab University get Admn's nod for elections?
August 30, 2002