Monday, September 16, 2002, Chandigarh, India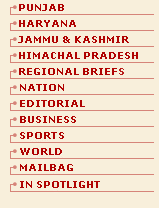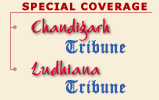 B U S I N E S S
Y O U R M O N E Y
A GUIDE TO PERSONAL FINANCE
Do you have accident insurance policy?
Chandigarh
One may take it as an odd question, but the increasing number of deaths and injuries due to road accidents, natural calamities like floods and earthquakes have made it necessary to think afresh about the insurance policy.
How to claim insurance
Personal accident insurance
Nagrik Suraksha Policy
HDFC Standard Life Insurance
Bankers' initiatives
Other private players
| | | |
| --- | --- | --- |
| | PREPARING FOR RETIREMENT | |
Fatalistic approach does not pay
Ludhiana
Fatalistic approach does not always pay in life and it is not only important but also advisable to plan your financial future. Modern day life, especially in a country like India, where there is hardly any social security to take care of your not so "able bodied", retirement days require a careful thought in ones younger days.
Gates loses $11b, still richest: Forbes
September 15, 2002
India set to be top rice exporter
September 14, 2002
Industry upbeat, grows at 6.4 pc
September 13, 2002
Govt to go slow on disinvestment
September 12, 2002
No FIR against PCL MD yet
September 11, 2002
US-Iraq stand-off: oil, gold up
September 10, 2002
Govt's package falls short of expectations
September 9, 2002
Mega units spiral tax losses
September 8, 2002
FDI limit in telecom may go up to 74 pc
September 7, 2002
Selloff row may derail reforms: Shourie
September 6, 2002