Karuna Goswamy
Across
1. Fresh water fish.
3. Religious functionary in Islam.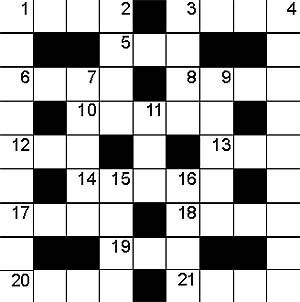 5. Resting place.
6. Narrow valley.
8. To come back.
10. Modern-day Vaishnava sect.
12. Colour at the end of the spectrum.
13. Medical person (abbrev.)
14. Cartoon character.
17. Television serial that was popular some years ago
18. One can get caught in this.
19. This precedes the surname of a woman before marriage.
20. Volcano in Italy.
21. Derogatory term for the female helper of a gangster.