Hari Jaisingh pins hope on kids
Jalandhar, September 29
It was a day with a difference for the tiny tots of the local Swami Sant Dass Public School as they had an opportunity to freely express their concerns on the contemporary world order besides having an interaction with Mr Hari Jaisingh, Editor of the Tribune group of newspapers.
Trust headed by SSP 'encroaches' on PWD land
Ferozepore, September 29
The Deputy Commissioner of Ferozepore, Mr D.K. Tiwari, has called a special meeting of the district-level committee formed to remove encroachments on October 17. The DC said encroachments along the natinal highwy at the behest of Mr Praveen Kumar to extend the premises of "Astana Auhliya Dargah Hazirat Baba Sher Shah Wali Peer" would especially be taken up at the meeting to restore the previous situation.
Bill on Gurdwara Act denounced
Amritsar, September 29
A seminar organised by the World Sikh Council, Amritsar zone, on "Sikh traditions and the all-India Sikh Gurdwara Act (AISGA)" here today unanimously denounced the proposed Act and sought to highlight that the Act was detrimental to Sikh interests and inadequate to resolve the problems being faced by the Sikhs. Coming down critically on the present Sikh leadership, speakers alleged that the glorious Sikh traditions were being ruined by the weak and self-serving management of the SGPC.
Sikh intellectuals including Bhai Ranjit Singh, former Jathedar, Akal Takht; Baba Sarbjot Singh Bedi, president of the Sant Samaj; Justice Ajit Singh Bains, PHRO; and Bibi Baljit Kaur, co- convenor of a seminar organised by the World Sikh Council Amritsar Zone. — P by Rajiv Sharma
Kang confesses to selling wood
Amritsar, September 29
The beleaguered former Chairman of Punjab Forest Corporation, Mr Manjinder Singh Kang, has confessed before the Vigilance Bureau that he had sold the forest wood to the owner of a saw mill in Amritsar.
Wife, mother-in-law kill man
Bathinda, September 29
In a bizarre incident, Lalita Rani, a drug addict, murdered her husband with the help of her mother Raj Rani last night by reportedly giving him poison. The body of the husband, Satish Kumar, was found on a roadside near bus stop at Buladhewala village on the Bathinda-Muktsar road by some policemen who were on routine patrolling.

Plea to end caste quota
Bathinda, September 29
Mr Harbans Singh Sidhu, district president, General Categories Welfare Federation, while addressing a meeting of activists at Goniana Mandi, near here, late last evening said the present system of caste-based reservation was not in the national interest as merit was being ignored to promote the interests of a section of society.
Misuse of funds: DC orders probe
Moga, September 29
The Deputy Commissioner has ordered a regular inquiry for alleged misuse of Rs 20 lakh flood relief fund allocated by the state government in 2000. Deputy Commissioner G. Ramesh Kumar has entrusted the inquiry to Bakhtawar Singh, Sub-divisional Magistrate, Baghapurana, and also directed him to complete the probe within a month.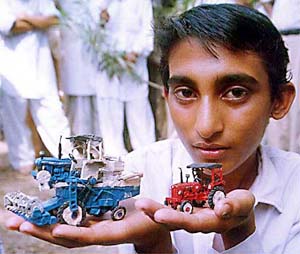 Bhinder Singh, 14-yea-old boy shows his craftmanship, the tiny working models (operated by pencil cell) of tractor and harvester combine made from local available materials in Bathinda on Sunday. — PTI photo
3 MC officials suspended
Bathinda, September 29
The Punjab Government has placed three officials including a Planning Officer, an Assistant Municipal Engineer (AME) and a Junior Engineer (JE) under suspension without assigning any reason in the suspension orders issued by the Secretary, Local Bodies, Mr Sarvesh Kaushal.
PATHANKOT ROUND-UP
Immunise kids, women told
THE All-India Women's Welfare Committee organised a five-day women camp at Mamun, near here, in which hundreds of women drawn from the villages of Mamun, Kuthed, Seunti and Chhatwal participated.
138 'Pashu Dhan Pinds' to come up
Anandpur Sahib, September 29
The Punjab Government has drawn up a comprehensive plan for developing one village in each block of the state as "Adarsh Pashu Dhan Pind" (Model livestock village) to bring "white revolution" in the state and to achieve international standards in the quality of milk production for exporting the same from here to the foreign countries on a large scale.
Get documents for relief, truckers told
Bathinda, September 29
The truckers of the area whose vehicles were destroyed in a fire near Bikaner in Rajasthan on January 11 while on Army duty have been asked by the authorities to prepare necessary documents till September 30 for claiming compensation.
Cockfighting continues as administration sleeps
Patiala, September 29
Notwithstanding tall claims of the district administration, cockfighting, banned under the SPCA Act, still takes place under the full glare of the administration at a dusty spot near Sular village, on the outskirts of this town. The fights are held on the last Sunday of every month.
Metal-free ceramic teeth
Jalandhar, September 29
There is good news for people living in those areas of Bathinda, Sangrur and Rajasthan, where high flouride content in water commonly leads to discolouration of teeth. They would now be able to flash a perfect smile and have sparkling teeth, thanks to the introduction of metal free ceramic teeth technology in the northern part of the country.
Intach team visits Kapurthala
Kapurthala, September 29
The two-day visit of an Intach team headed by Mr S.K. Mishra, vice-chairman, Intach, and chairman, State Advisory Committee on culture, heritage and tourism, here concluded today.
Plea to hold theatre festival in Patiala
Chandigarh, September 29
The Punjab Government should come forward to organise a national theatre festival at Patiala to arouse love for the theatre among the people of Malwa and to acquaint them with the national theatre standards. These were the views of the Director of the National Theatre Arts Society, (NTAS), Patiala, and other theatre activists at the conclusion of a week-long National Natya Festival at Chandigarh organised by the North Central Zone Cultural Centre, Allahabad, and the Haryana Public Relations and Cultural Affairs.
Nabha urban estate plan cleared
Patiala, September 29
The Punjab Urban Planning and Development Authority (PUDA) has approved the lay-out of the 110-acre Nabha Agricultural Seed Farm, transferred to it earlier and now being developed as an urban estate.
Integrated township project takes off
Patiala, September 29
The Integrated Township Project, proposed to be set up here under the Counter Magnet Towns scheme of the Central Government has finally taken off with the Patiala Urban Planning and Development Authority (PUDA) identifying 300 acres of land in Baran village, 5 km from here, as the site on which the project will be established.


Woman nabs chain snatcher
Kapurthala, September 29
Devinder Kaur, a resident of Jalandhar, caught hold of one of the chain snatchers near the Civil Hospital here yesterday afternoon.
Woman molested in public
Amritsar, September 29
A woman was molested and her clothes were torn in full public view by Nandu Baba and Seeta under police station B division here last evening.