Monday, September 30, 2002, Chandigarh, India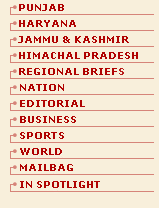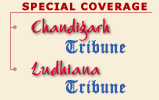 B U S I N E S S

Daewoo: elusive buyers, apprehensive owners
LET's start off with rubbishing a market canard- that a buyer gets one Matiz or Cielo free if he purchases five (the numbers keep varying as the rumour hops from one mouth to another). This is false and baseless.

Messy situation
Indian subsidiary
Policy

Insurance firms as catalyst for infrastructure investment
A glaring omission in the recent budget is the absence of positive action to trigger infrastructure investment through long-term domestic savings. The role of insurance companies as channels of long-term savings for fulfilling the infrastructure needs of the country has not received due recognition in the budget.


| | | |
| --- | --- | --- |
| | PREPARING FOR RETIREMENT | |
Customise your second innings in life
PLANNING for retirement needs a careful look at various aspects that are likely to cause concern after you cross the age 60 mark. While most people start thinking about retirement close to the actual date when they would cease to work, intelligent planning should be done way in advance says Mr Y. R Sharma, Associate Vice President (Delhi Region) of Om Kotak Mahindra.
Govt fails to maintain growth: Manmohan
September 29, 2002

Rise in kerosene, LPG prices in a month
September 28, 2002

India, Afghanistan trade pact soon
September 27, 2002

TRAI may hike monthly rental, local call rates
September 26, 2002

Rising oil prices hit Asia's growth
September 25, 2002

ONGC to buy HPCL stake in MRPL
September 24, 2002

Excellent time to invest in real estate
September 23, 2002

India seeks concessional pricing of oil
September 22, 2002

HFCL to disinvest subsidiary
September 21, 2002

Oil close to year-high as OPEC extends curbs
September 20, 2002

10th Plan to have state-wise growth targets
September 19, 2002