Tuesday, October 1, 2002, Chandigarh, India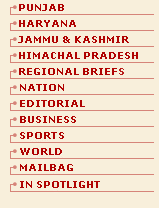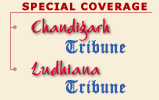 M A I N N E W S
17 killed in mid-air Naval aircraft collision
New Delhi, October 1
Two aircraft of the Indian navy collided in mid-air near Dabolim airport in Goa on Tuesday morning, according to an Indian Air Force spokesman. At least 17 persons were on board the ill-fated aircraft and were killed, a report said later.
Sqdn Ldr Dhingra said in New Delhi that the accident occurred while the two IL-38 aircraft were flying in formation during a demonstration to mark the 25th anniversary of the Indian Navy's 315 Air Squadron. The aircraft is a long-range maritime patrol aircraft and has a large crew.
The accident occurred around 10 a.m. (IST) and the debris of the aircraft is reported to have fallen over a bungalow under construction in a residential area, about 20 km from Dabolim airport, killing some workers there.
Fire brigade personnel and rescue workers from the nearby naval base have rushed to the site of the accident. The base, INS Hansa, is home to the Indian Navy's premier air squadrons including INAS 300 with the Sea Harrier Fighter Squadron, INAS 310 with the Do-228 Information Warfare Squadron, INAS 315 with the IL-38 MR Squadron.
Mr Manohar Parikhar, Chief Minister of Goa, said the area where the debris had fallen was not densely populated.