Tuesday, October 1, 2002, Chandigarh, India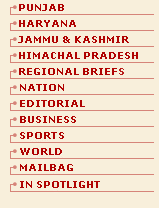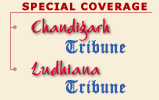 B U S I N E S S
From salesman to entrepreneur


New Delhi, September 30
The man who could not afford money for meals 40 years ago was responsible for single-handedly building a diversified group with $525 million in turnover and creating jobs for 9,000 people.
Tension with Pak not to hit 'India's deficit'
Washington, September 30
Finance Minister Jaswant Singh has staunchly defended the strength of his country's economy, insisting that the current border tensions with Pakistan would not affect the government's fiscal deficit.
GDP rate clocks 6 per cent growth
New Delhi, September 30
In a strong indication of economic turnaround, India's GDP recorded a 6 per cent growth in the first quarter of the current fiscal (2002-03) as compared the corresponding period of the previous year.
Demand for IT workers drying up in UK
London, September 30
The demand for Indian IT workers in Britain is drying up, says a new report by Migrationwatch UK, a think tank. The report, released in London on Monday, says a block has been placed on new recruitment of IT specialists from India after the sector was taken off the "shortage list" of the Home Office.
Daewoo: elusive buyers, apprehensive owners
September 30, 2002

Govt fails to maintain growth: Manmohan
September 29, 2002

Rise in kerosene, LPG prices in a month
September 28, 2002

India, Afghanistan trade pact soon
September 27, 2002

TRAI may hike monthly rental, local call rates
September 26, 2002

Rising oil prices hit Asia's growth
September 25, 2002

ONGC to buy HPCL stake in MRPL
September 24, 2002

Excellent time to invest in real estate
September 23, 2002

India seeks concessional pricing of oil
September 22, 2002

HFCL to disinvest subsidiary
September 21, 2002