Tuesday, October 1, 2002, Chandigarh, India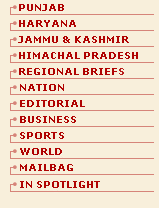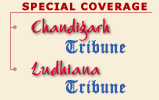 N A T I O N
Akshardham reopens today
Gandhinagar, September 30
The Akshardham monument which survived a terrorist attack last Tuesday will reopen tomorrow amidst tight security.
CCS reviews security scene
New Delhi, September 30
The Cabinet Committee on Security met here yesterday to review the security situation in the country in the light of the terrorist attack at Swaminarayan Temple in Gandhinagar and the ongoing Assembly elections in Jammu and Kashmir.
Bitta gives Rs 1 lakh to commando's kin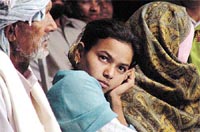 New Delhi, September 30
The All-India Anti-Terrorist Front today paid tributes to NSG commando Suresh Chand Yadav, who laid down his life fighting terrorists in the Swaminarain temple in Gandhinagar.
Sunita Yadav, daughter of NSG commando Suresh Yadav, with mother and grandfather at a commemorative meeting in memory of her father who was killed fighting terrorists in the recent attack at Akshardham temple in Gandhinagar, in the Capital on Monday.
— Tribune photo Mukesh Aggarwal

Pervez 'interfering' in Indian affairs
New Delhi, September 30
India today said Pakistan President Pervez Musharraf's remarks on Gujarat were a "gross interference in our internal affairs" and advised Islamabad to set its own house in order.
Rigid stands lead to Cauvery issue deadlock
September 30, 2002

Karnataka anxiously awaits SC verdict on Cauvery
September 29, 2002

BJP, Cong trying to cash in on attack
September 28, 2002

JeM wooing Taliban fighters
September 27, 2002

Parallels drawn with Parliament attack
September 26, 2002

Police files caveat in Ravi Kant case
September 25, 2002

Christians attacked, Bajrang Dal blamed
September 24, 2002

DMK to approach PM on Cauvery issue
September 23, 2002

No Cauvery water for TN: Karnataka parties
September 22, 2002

Sonia's speech divisive: BJP
September 21, 2002

IAF to induct flight simulators
September 20, 2002