THE TRIBUNE MAGAZINES
On alternate Mondays

On Sundays
On Saturdays

IN PASSING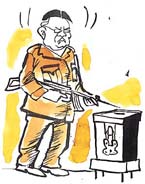 We'll show them how to hold elections in a 'democratic' way!
by Sandeep Joshi
Punjab page:


Money power behind defection: CPI

Few buyers for paddy at MSP
PM hits out at reforms critics
Says media distorting facts on disinvestment
New Delhi, October 2
Prime Minister Atal Behari Vajpayee today accused sections of the media of distorting facts on the disinvestment issue. He said an impression was being created as if the privatisation process had come to a halt due to differences within the NDA government.

Business: George, Naik, Joshi against PSUs' selloff
Nation remembers Gandhiji
New Delhi, October 2
President A.P.J. Abdul Kalam today led the nation in paying homage to the Father of the Nation, Mahatma Gandhi, on the occasion of his 133rd birth anniversary at his samadhi in Rajghat here.


In video (28k, 56k)
10 injured in Gujarat violence
Ahmedabad, October 2
Group clashes and police firing have left 10 persons injured in Vadodara and Bhavnagar districts of Gujarat in the past 24 hours. The police opened fire to disperse the clashing mobs at the Karachiliya Para slum area of Bhavnagar this afternoon, injuring four persons, police said.


In video: The police in Gujarat says it has unearthed a plot to assassinate top political leaders, including Deputy Prime Minister Lal Krishna Advani. (28k, 56k)


Free us of Periphery Act, cry villagers
Chandigarh, October 2
"Hakan mariyan, bulaya lakh bari, per kise ne meri gal na suni" (No one has heard me though I made lakhs of calls). These famed lines of a popular Punjabi song aptly describe the tale of woes and misery of residents over 300 villages in the radius of 16 km from the outer boundary of the City Beautiful.
6 jawans die in blast
October 2, 2002

Security umbrella for 3rd phase poll
October 1, 2002

STF back in barracks
September 30, 2002

10-day police remand for R.K. Sharma
September 29, 2002

Temple attackers were Pakistanis
September 28, 2002

Stray incidents mark bandh
September 27, 2002

Army deployed in Gujarat
September 26, 2002

Ultras storm Gujarat temple, kill 30
September 25, 2002

Ultras kill cop, take 3 hostage on poll eve
September 24, 2002

Diplomatic efforts to bring back Abu Salem
September 23, 2002