Friday, October 4, 2002, Chandigarh, India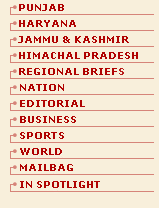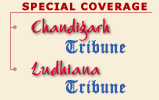 S P O R T S

Evgeniy Erofaylov (in red) of Uzbekistan holds down Mohammad Ken of Syria during the under-84 kg men's Greco Roman style wrestling event for the 3rd and 4th place in the 14th Asian Games in Yangsan on Thursday. Japan's Shingo Matsumoto won gold, South Korea's Kim Jung-sub took silver and Mohammad Ken of Syria stood third in the event.
— Reuters
Indians shoot trap silver
Busan, October 3
The Indian shooters scooped up another silver medal to take their tally to two but pistol king Japsal Rana returned with a disappointing performance to further diminish India's medal prospects in the shooting event of the 14th Asian Games here today.
Shiv Kapur in joint lead
Equestrian team fourth
Nitin Mongia leads
Dingko crashes out in 1st round
Dingko Singh's hopes of retaining the gold medal in bantam weight category were shattered as he suffered a crushing defeat at the hands of his North Korean opponent in the very first round.


Pratima finished fifth
Rowers fail to make impact

Spikers crash out
Judo challenge ends
India pay price for lapses
Busan, October 3
India paid the price for a few defensive lapses to go down 0-2 to strong contenders China in their last group C league match of the 14th Asian Games here at Yangsan today.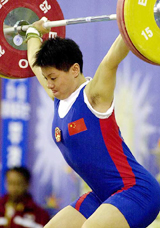 Another weightlifting record tumbles
Busan, October 3
China's Liu Xia broke the women's 63-kg weightlifting world record by ½ kg today in the clean and jerk at the Asian Games.

China's Xia Liu lifts 137.5 kg in the clean-and-jerk section of the women's 63kg weightlifting contest to break the world record in Busan on Thursday. Liu lifted total 240 kg and won the gold medal. — AP/PTI photo


Pham Van Mach, left, of Vietnam poses with Cho Wan-bung of South Korea during a preliminary session of the bodybuilding contest in the 14th Asian Games in Busan on Thursday. Both were qualified to advance to the final session. This is the first time that bodybuilding is added as a medal sport in the Asian Games. — AP/PTI



India bag medals in rowing, shooting
October 3, 2002

Merchant-Habib duo wins gold
October 2, 2002

Rain forces India, Lanka to share trophy
October 1, 2002

Final abandoned due to rain, rematch today
September 30, 2002

A nail-biting finish on the cards
September 29, 2002
Aussies down and out
September 28, 2002
Ponting predicts fiery contest
September 27, 2002
Sehwag ambushes South Africa
September 26, 2002
Bowlers must back us, says Ganguly
September 25, 2002
Bond sends Bangladesh packing
September 24, 2002