BACK FROM THE PAST
Ashwini Bhatnagar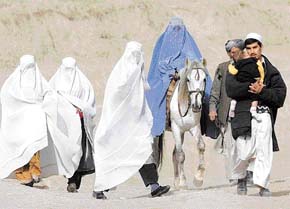 AFGHANISTAN is open for business. It is back from the past and now ready to live its life fully in the comity of nations. Since 1979, it had been under Soviet occupation and then for the last six long years, it had been forced to down its shutters and live in seclusion guarded by the paranoid Taliban regime. Last year, it cut the shackles, took account of itself and reached out to the world. India was waiting.
FESTIVAL FARE
No idling for idol-makers now
Monica Sharma
HE breathes life into mud, but only to see his creations get destroyed after their completion. Yet he does not allow hopelessness to take hold of him. For him, every day brings a new hope and beginning. That is the reason why every year after the submergence of idols in river waters during the Durga Puja celebrations, he zealously begins to work again.