Sunday, October 6, 2002



End of the road for Salem?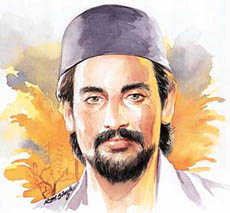 It cannot be ruled out that Abu Salem shifted base to Portugal at the behest of Pakistan's Inter Services Intelligence (ISI). This is a serious matter as the USA and the UK treat Pakistan as "a very important ally" in the international coalition's war against terrorism. Besides, if this were to prove correct in the times to come it could also mean that a section of the ISI is still hobnobbing with the Al Qaida, says Rajeev Sharma
Celluloid chitchat
The new man in Ash's life
AISHWARYA Rai has a new man in her life. And no, it's not an ardent admirer, but her new bodyguard, Prabhakar. And the reason is not difficult to guess. At a time when she is getting rave reviews for her acting and not just good looks, Salman Khan is going out of the way to play trouble-maker on Ash's sets. With her personal life already in a mess, Ash is not taking any chances with her professional life.
Behind the scenes
The Road less travelled
EXPERIMENTAL, Ram Gopal Varma Productions' Road is the first Indian film to be shot entirely on the road with a mobile unit. Ram Gopal Varma has always taken the Road less travelled. And as poet Robert Frost put it succinctly, 'I have taken the road less travelled by, and that has made all the difference.'
Antara mali's route to success
Asha Singh
ONE of the lasting impressions from Rajat Mukherjee's debut-making Road is Antara Mali's electrifying performance — a role that crackles with pure sensuousness and raw feminine energy and yet, does not transgress the norms of decency. It is a role that is in sharp contrast to Antara's earlier starrer, Company in which she played a typical sari-clad Maharashtrian girl from the slums, married to an underworld crook.