Saturday, October 12, 2002, Chandigarh, India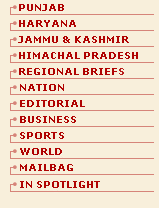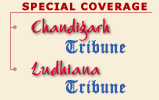 N A T I O N
Japan, France welcome J&K poll process
New Delhi, October 11
France, Japan and Australia today joined the USA and Britain in welcoming the just-concluded Assembly poll in Jammu and Kashmir and expressed the hope that there would now be a dialogue with all parties concerned for an amicable resolution of the Kashmir problem.


In video: Though the BJP has not done well in Jammu and Kashmir elections, Deputy Prime Minister Lal Krishna Advani says it is victory of India and democracy. (28k, 56k)

EC pays tribute to voters
New Delhi, October 11
The Election Commission today paid a "special tribute" to the voter of Jammu and Kashmir who kept faith with democracy and all others, including security and election personnel, who made it possible.
CPI happy at BJP rout in J&K
New Delhi, October 11
Hailing the people of Jammu and Kashmir for outright rejection of the BJP and its associates, the Communist Party of India today said the election results reflected "the national mood".
Natwar Singh for talks with Pakistan
Chandigarh, October 11
Commenting on yesterday's developments during the Indo-EU political dialogue, Mr Natwar Singh, who holds charge of the Foreign Affairs Cell of the All India Congress Committee, said here today that Prime Minister Atal Behari Vajpayee and his associates had not prepared themselves fully for a summit with the European Union.
Man arrested for threatening PM
New Delhi, October 11
The Delhi police arrested Manu Singh, a resident of D-Block, Sangam Vihar in South District who allegedly threatened to kill Prime Minister Atal Behari Vajpayee on telephone today.
JP Narayan centenary celebrations begin
New Delhi, October 11
Vice-President Bhairon Singh Shekhawat today launched the year-long birth centenary celebrations of Lok Nayak Jaiprakash Narayan.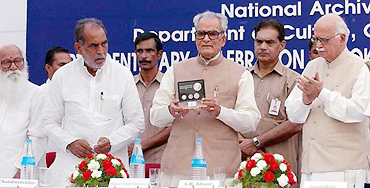 Vice-President Bhairon Singh Sekhawat releases coins on the occasion of Jai Parkash Narain Shatbadi Diwas in New Delhi on Friday. Deputy Prime Minister L. K. Advani, former Prime Minister Chandra Shekhar and Nanaji Deshmukh are also seen in the picture.
— PTI photo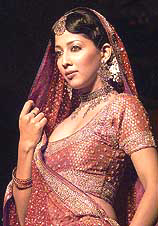 A model displays a bridal dress during a fashion show in New Delhi on Thursday. Various leading designers from India, Pakistan and Bangladesh are showcasing their creations at the show.
— Reuters
Azad to meet Sonia today
October 11, 2002

Trains cancelled in Tamil Nadu
October 10, 2002

NCM takes up Khalistan issue with UK delegation
October 9, 2002

Purifying Ganga: SC notices to 8 states
October 8, 2002

Durga puja: red alert in Kolkata
October 7, 2002

Panchayats to get more teeth
October 6, 2002

Stage set for Gujarat elections
October 5, 2002

Temple move intended to confuse SCs: VP
October 4, 2002

Mainstream section gets off to lacklustre start
October 3, 2002

Mamata to snap ties with NDA
October 2, 2002

Akshardham reopens today
October 1, 2002