THE TRIBUNE MAGAZINES
On alternate Mondays

On Sundays
On Saturdays

IN PASSING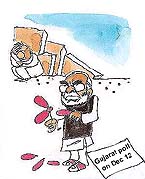 Will he vote for me, will he not ....

by Sandeep Joshi
MMA for talks under Simla pact
Islamabad, October 29
In an apparent policy shift, an alliance of six hardline religious parties in Pakistan has said it prefers the settlement of Kashmir and other disputes with India under the ambit of the Simla Agreement.


In video: (28k, 56k)
Gen can't end militancy: Bhutto


Washington, October 29
Gen Pervez Musharraf is a person who tries to project a Pakistan that is free of militancy but there is room for doubt if he can really deliver it, according to Ms Benazir Bhutto.


In video (28k, 56k)
20 killed in Kinnaur mishap
Shimla, October 29
At least 20 persons were killed and one injured when a maxi-cab fell into the Satluj river near Purbani in Kinnaur district today.
Speaker formalises BJD split
New Delhi, October 29
In a setback to Orissa Chief Minister Naveen Patnaik, the rebel Biju Janata Dal leader Prasanna Acharya was today recognised as the leader of the BJD Parliamentary Party in the Lok Sabha by Speaker Manohar Joshi.


Farmers block rail, road traffic
Patiala, October 29
On a call given by seven farmer associations, including the Bharatiya Kisan Union (Ekta), the All-India Kirti Kisan Sabha and the Punjab Kisan Sabha, hundreds of farmers blocked GT Road and railway track at Rajpura in protest against 'indifferent attitude' of the Central Government towards their demands.

Farmers raise anti-government slogans as they protest on a rail track in Amritsar on Tuesday.
— Reuter photo

Punjab page: CM cheated farmers, says Akali leader

Gujarat poll on Dec 12
October 29, 2002

Mufti to scrap POTA
October 28, 2002

Mufti to be CM
October 27, 2002

PM vows to crush Pak monster
October 26, 2002

Theatre of terror: 700 held hostage
October 25, 2002

Mufti relents; talks in Delhi tomorrow
October 24, 2002

Pak nuclear scientists in touch with Al-Qaida
October 23, 2002

Deadlock continues
October 22, 2002

Manmohan hopeful
October 21, 2002

Manmohan to hold talks with Mufti
October 20, 2002