Monday, November 4, 2002, Chandigarh, India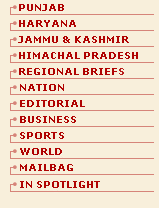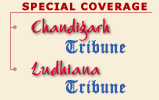 B U S I N E S S
Y O U R M O N E Y
A GUIDE TO PERSONAL FINANCE
Online lottery mania grips youth
Chandigarh
Kulwinder, 16, a matriculate student, is waiting at the online lottery counter in Phase 5, S.A.S. Nagar for the past two hours. With Rs 20 in his pocket, he is awaiting for the counter attendant to start the machine, so that he could try his luck twice to win the jackpot.
Growing business

Tech dividends

A part of Divali buy

Impact of media

Is it a voluntary tax?
Parameters for buying diamonds
The festival season has seen a rapid increase in the number of people wanting to buy diamonds instead of the traditional gold jewellery.
Look for the pyramid

Cut

Carat

Colour
Inflation rises marginally
New Delhi, November 3
A sharp rise in petrol and diesel oil prices led to a marginal 0.06 per cent rise in inflation to 2.89 per cent for the week ended October 19.
Microsoft deal with US govt gets nod
November 3, 2002
RBI liberalises foreign exchange facilities
November 2, 2002
Reliance Ind net grows 25 pc
November 1, 2002
SBI net profit shoots up 34 pc
October 31, 2002
Cabinet approves 10th Five-Year Plan
October 30, 2002
Haryana IT exports cross 3200 cr mark
October 29, 2002
Disappointing Q2 results pull down the market
October 28, 2002

Invest in rural projects: Shanta
October 27, 2002

Wind up PFC, PAIC, PRTC: report
October 26, 2002

Dr Reddy's Lab net profit falls
October 25, 2002

MTNL, BSNL to slash Internet access charges
October 24, 2002