Sunday, November 10, 2002, Chandigarh, India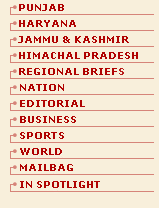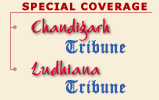 B U S I N E S S
SEBI board approves delisting report
Mumbai, November 9
The Board of the Securities and Exchange Board of India (SEBI) has approved the report of the delisting panel while deferring its decision on demutualisation report and expanding the list of securities in derivatives at its meeting held here today.
World Bank team arrives on Monday
Ludhiana, November 9
Encouraged by the fresh fiscal reforms taken by the state government in Punjab, world bank is likely to resume its relationship wit the state government as a high level team of the bank is visiting Punjab for a week from November 11.
Chautala offers investor-friendly climate to S. Africa
Johannesburg, November 9
Haryana Chief Minister Om Prakash Chautala today invited the South African entrepreneurs to invest in tourism, automobiles and food processing sectors, assuring them of an investor-friendly climate in the state.
Tanneries, pollution board lock horns
Patiala, November 9
The Punjab Pollution Control Board (PPCB) and tannery owners of the Leather Complex, Jalandhar, seem to have locked horns over the installation of individual effluent treatment plants (ETP) in every unit with the PPCB gearing up to file a fresh status report on the basis of samples taken from the tanneries to get the stay on installation of individual ETPs vacated from the high court.
Industrial policy and state of industry
November 9, 2002
RBI defines 'wilful defaulter'
November 8, 2002
Political debate overshadows selloff process
November 7, 2002
RIL acquires Niko stake in 10 oil blocks
November 6, 2002
Online lottery mania grips youth
November 4, 2002
Microsoft deal with US govt gets nod
November 3, 2002
RBI liberalises foreign exchange facilities
November 2, 2002
Reliance Ind net grows 25 pc
November 1, 2002
SBI net profit shoots up 34 pc
October 31, 2002
Cabinet approves 10th Five-Year Plan
October 30, 2002