THE TRIBUNE MAGAZINES
On alternate Mondays

On Sundays
On Saturdays

IN PASSING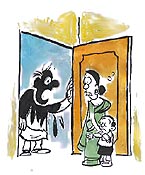 ... but how do you know I am campaigning in Gujarat?
by Sandeep Joshi
Pak-N.Korea N-nexus threat to global security, USA told
New Delhi, December 5
India today conveyed to the USA its serious worries over the Pakistan-North Korea nuclear nexus and is understood to have told the visiting US Deputy National Security Adviser, Mr Stephen Hadley, that the US media itself had reported that Islamabad's assistance to Pyongyang's uranium enrichment programme continued until three months back.


Defence Minister George Fernandes with US National Defence Security Adviser

Stephen Hadley in New Delhi on Thursday.
— PTI photo
Centre gives 137 cr more to J&K
Jammu, December 5
The Council of Ministers headed by Mufti Mohammad Sayeed at a special meeting held here today, appreciated the success achieved by the Chief Minister in getting an additional financial assistance from the Centre to the tune of Rs 137 crore for various projects, including bridging the gap between the supply and demand in the power sector.
Water user charges hiked
Chandigarh, December 5
The Cabinet subcommittee has approved the revision and utilisation of user charges for repair and maintenance of rural water supply schemes in Punjab, it is reliably learnt.


One-hour strike by PSEB staff
Patiala, December 5
The Punjab government allegedly pressurised the Punjab State Electricity Board (PSEB) into removing System Operations Chief Engineer Padamjit Singh from his post to pave the way for power supply contract to a private firm who had not done similar job and failed to give details of agreements with other companies which would make the supply possible.
In Career Guide today

Dismantle terrorist units, Putin asks Pak
December 5, 2002
Putin arrives to forge new axis
December 4, 2002
Setback for CBI in Bofors case
December 3, 2002
More temples may be targeted: PM
December 2, 2002
Advani dares Pak to fourth war
December 1, 2002
Ayodhya trial in Rae Bareily
November 30, 2002
50 ultras rearrested
November 29, 2002
Badal courts arrest, let off
November 28, 2002
Mufti acted against advice: Advani
November 27, 2002
Temple terror ends
November 26, 2002