M A I N N E W S
2 Pak ultras shot in Capital
Tribune News Service
New Delhi, December 14
The Delhi police special cell shot dead two suspected Pakistani militants in an encounter, while the third managed to escape this morning in the Tughlaqabad area, where some defence establishments are situated.
Two AK 47 rifles, six magazines, three hand grenades and 94 rounds of AK 47, kept in a gunny bag, were seized from the car.
Special cell sleuths, acting on a tip- off that some terrorists would be entering Delhi to cause explosions at some vital installations in the Capital, saw a Maruti Zen (DL-7C-5921) entering from neighbouring Haryana around 6.00 a.m.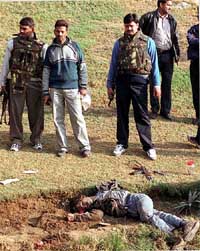 Personnel of the Special Cell of the Delhi police examining the spot where one of the two suspected terrorists was killed in an encounter near Tughlaqabad on Saturday.
— Tribune photo Mukesh Aggarwal.
When the police party present there signalled the car, carrying three militants, to stop at a checkpost when it entered Delhi, the militants tried to escape.
The policemen gave them a chase, resulting in an encounter, close to the offices of the Indian Air Force, the BSF, the ITBP and the CRPF.
Joint Commissioner of Police Neeraj Kumar said in the encounter, which lasted about 40 minutes, two militants were killed, while the third, who was driving the car, fled under the cover of darkness.
He said a massive hunt had been launched for the militant, suspected to have escaped towards Faridabad.
The state police had been alerted.
The police also claimed to have recovered a document bearing the name of Tehreek-e-Ghaznavi, a possible cover name of the Lashkar-e-Toiba (LeT), from the vehicle.