THE TRIBUNE MAGAZINES
On alternate Mondays

On Sundays
On Saturdays

IN PASSING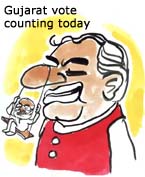 Don't worry, Modi. The exit polls are in our favour!

by Sandeep Joshi
---
2 HC Judges told to go on leave
CJI reprimands Justice Singhal
New Delhi, December 14
Two judges of the Punjab and Haryana High Court were today asked to proceed on "indefinite" leave after a high-level judicial committee found "prima facie true" the charges of "undue influence and misuse of office" against them.
---
Health scheme for ex-servicemen
Dhumal for setting up Himalayan regiment
Una, December 14

The Chief of Army Staff-designate, General N.C. Vij, today announced a new health scheme for exservicemen and also setting up of a brigade and an ammunition depot in either Una, Bilaspur or Hamirpur districts of Himachal Pradesh.
Himachal Chief Minister Prem Kumar Dhumal is flanked by the Vice-Chief of Army Staff, Lt-Gen N.C. Vij (left), and the Chief of Staff, Western Command, Lt-Gen H.S. Kanwar, at an ex-servicemen's rally in Una on Saturday.

Rats blamed for canal breach
Aladinpur (Tarn Taran), December 14
Even as the 75-foot breach in the Kasur Branch Lower of the Upper Bari Doab Canal has been plugged, yet more than 150 families of three villages of Tarn Taran subdivision are still marooned.


Tax on self-generated power to go
Rs 550-cr subsidy for exporters announced
Jalandhar, December 14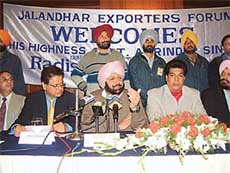 The Punjab Chief Minister, Capt Amarinder Singh, today said his government would waive the tax on power generated by industrial units with the help of private generator sets.
Punjab Chief Minister Amarinder Singh, flanked by Industry Minister Avtaar Henry and Jalandhar Exporters Forum chief Gautam Kapoor during an interactive session organised by the forum in Jalandhar on Saturday. — A Tribune photo

In Her World today

Anees freed on bail
December 14, 2002
Heavy voter turnout in Gujarat
December 13, 2002
Day of reckoning for BJP, Cong
December 12, 2002
High-pitched campaign ends
December 11, 2002
HPCL, BPCL to go on the block
December 10, 2002
BJP ropes in Mayawati
December 9, 2002
Vajpayee hits campaign trail
December 8, 2002
N-nexus exposes murky details
December 7, 2002
Ex-minister Lone's brother shot dead
December 6, 2002
Dismantle terrorist units, Putin asks Pak
December 5, 2002
Putin arrives to forge new axis
December 4, 2002