Pak missile launcher found
5 militants killed in J&K
Tribune News Service and Agencies
Jammu, December 14
The Army today found a surface-to-air missile launcher from a forest hideout of militants in Malhapur village of Kupwara district.
A Defence Ministry spokesman said the Army patrol party found this deadly missile launcher during their search operations in the forest belt. He said the missile launcher with a marking of ANZA Mark-1, had been brought by the militants for downing helicopters and other aircrafts of the Army.
He said these type of missile launchers were available with the Pakistani army.
It weighs 15 kg, has a length four feet eight inches and a diameter of 80 mm. It has a warhead of 10 kg.
The militants, the spokesman claimed, had concealed the missile launcher and the warhead underground and the troops dug it out. He said the recovery further confirmed Pakistanís direct involvement in sponsoring terrorism in the Jammu and Kashmir region.
Besides the missile launcher, a large quantity of arms and ammunition, including rocket launchers and assault rifles were also seized.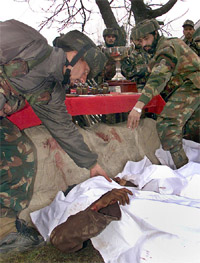 Indian paramilitary troopers in Veerinag, 90 km south of Srinagar, cover the bodies of three suspected separatists militants on Saturday.
ó Reuters photo
SRINAGAR: Five militants and a civilian were killed and another injured in militancy-related incidents, including an encounter between ultras and security forces at the Dooru area in Anantnag district of south Kashmir since Friday night, an official spokesman said.
Three militants were killed in a fierce gunbattle with the Indo-Tibetan Border Police troops at Kapran in Dooru late on Friday night, the spokesman said.
A woman, identified as Haleema Bano, was seriously injured in the incident, he said.
The police on Saturday found the body of a government employee, Ali Mohammad Akhoon, from Chak-e-Razak in the Pattan area of Baramulla district. Akhoon, a resident of Hawal here, was an Inspector in the Handicrafts Department, the spokesman said.
Two militants were killed in an encounter with the security forces at Balchari Chasana in Udhampur district, the spokesman said.
Militants shot at and injured Abdul Qayoom Khnaday at his residence at Wandevalgam in the Kokernag area of Anantnag district, the spokesman said.
He said security forces detected an Improvised Expolsive Device (IED) at Kandipora in Kupwara district. The explosive was defused by the bomb disposal squad.