THE TRIBUNE MAGAZINES
On alternate Mondays

On Sundays
On Saturdays
IN PASSING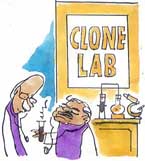 What? You want only Modi model in 2003!

by Sandeep Joshi
Fog hits air, rail traffic
Chandigarh, January 1
The entire northern region today shivered as the cold wave intensified, with Srinagar in the Kashmir valley reporting a low of minus 5°C, even as snow in the hills of Himachal Pradesh and rain in the plains made people groan under piercing icy winds.
US-Pak armies clash, 2 killed
Washington, January 1
Two Pakistani soldiers were killed in a US bombing on an Islamic religious school near the Afghan border even as an American was wounded in the first-ever clash between the two armies after the war on terror in Afghanistan began.


7 killed at wedding
Congress, HVP to stay away
All-party meeting on SYL issue
Chandigarh, January 1
Haryana Chief Minister Om Prakash Chautala's bid to wrest the initiative on the SYL Canal completion issue came to a cropper with the Congress today announcing that it would not attend the all-party meeting convened by the Chief Minister in this connection for January 14.
Black day observed in Bihar
Patna, January 1
The NDA today observed black day in Bihar demanding the arrest and registration of a murder case against the policemen involved in the alleged fake encounter in which three youths were killed on Saturday.
Petrol, diesel price hike today
Mumbai, January 1
In view of a spurt in crude prices in international markets, national oil companies will tomorrow announce an increase in petrol and diesel prices after a gap of two consecutive fortnights.
Dhalia Principal Secretary to Chautala
Chandigarh, January 1
Mr B.D. Dhalia, a 1969-batch IAS officer, today took over as the Principal Secretary to the Chief Minister, Haryana, following the retirement of Mr M.K. Miglani yesterday.


Greetings, flowers on New Year day
Chandigarh, January 1
The foggy and chilly weather conditions notwithstanding, festivities combined with exchange of greetings, flowers and telephone calls marked the New Year day in most of the offices of the Punjab and Haryana Governments and the Chandigarh Administration today.
In Science Tribune today
Shimla wears a white blanket
January 1, 2003

We were ready for war: Gen
December 31, 2002
Leh council gets full powers
December 30, 2002
Taliban shift bases to Pak: Advani
December 29, 2002
Kelkar retains harsh proposals
December 28, 2002
MiG crashes into house
December 27, 2002
'Swajaldhara' to take water to villages
December 26, 2002
Hindutva not poll issue: Vajpayee
December 25, 2002
Sajjan acquitted in '84 riots case
December 24, 2002
Modi back in saddle
December 23, 2002
Slow fiscal reforms worry PM
December 22, 2002