Super Star sail into semi-final
New Delhi, January 19
Rajesh Sharma played an all-round role (47, 7x4 and 2 for 26) as Super Star Club defeated Youngsters Club by three runs and entered the semi-final of the seventh Sahibzada Ajit Singh Cricket Tournament, organised by the Sri Guru Gobind Singh College of Commerce, at its ground in Pitampura. Rajesh Sharma was adjudged the Man of the Match.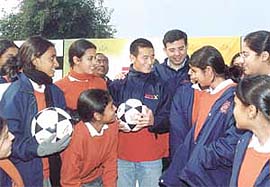 Indian soccer star Baichung Bhutia surrounded by fans.

Jindal School beat Manavsthali
New Delhi, January 19
Akhil Yadav (54) and Akshay Arora (4 for 23) played star roles as N C Jindal School defeated Manavsthali by ten wickets in the sixth Rohtak Road Gymkhna R P Jain Inter-School Under-15 Cricket Tournament at the Bharat Nagar ground.
Pankaj, Manish help Delhi beat Bhubaneshwar
New Delhi, January 19
Pankaj Kaushik hit a strokefilled 75 and Manish Giri claimed five wickets for 19 runs as Delhi beat Bhubaneswar by 184 runs and entered the semi-final of the All-India State Bank of India Inter-Circle Cricket Tournament at the Khalsa College ground on Sunday.
TVS Racing all set for a grand finish
New Delhi, January 19
Team TVS Racing, a formidable motocross team in the country, are all set to extend their superiority in the MRF Motocross Championship with a clean sweep in the final round in Bangalore.
Delhi Police upset Indian National
New Delhi, January 19
Delhi Police scored an upset 1-0 victory against Indian National in a Pool A match of the Delhi Soccer Association (DSA)-SAIL Super League at the Ambedkar Stadium on Sunday.