THE TRIBUNE MAGAZINES
On alternate Mondays

On Sundays
On Saturdays
IN PASSING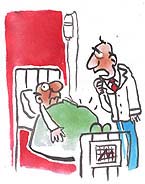 I forgot my mobile in your stomach. Should I open it again or buy a new one?
by Sandeep Joshi
Khatami arrives on 5-day visit
New Delhi, January 24
Iranian President Seyyed Mohammed Khatami arrived here this evening on a five-day visit, aimed at imparting a new strategic dimension to Indo-Iran ties and making the Central Asian region better accessible to India without having to use Pakistani land route or airspace.
Iranian President Seyed Mohammad Khatami being received by the Minister of State for External Affairs Digvijay Singh at Palam Airport in New delhi on Friday.

He will be the chief guest of the forthcoming Repubic Day Ceremony.

— PTI photo
SYL meeting: Centre in 'thinking mode'
Chandigarh, January 24
The Cabinet Secretary, Mr Kamal Pande, today heard both Punjab and Haryana on the construction of the SYL canal. Informed sources in New Delhi told TNS that the Centre was in the "thinking" mode having heard the views of the two states.
UK to set up visa centre in Chandigarh
New Delhi, January 24
The British High Commission today announced its decision of setting up new visa application centres in New Delhi, Chandigarh and Jalandhar from February 3. More such centres would be opened across the country over the next month.


TRIBUNE EXCLUSIVE
Bansi Lal, son indicted
Chahal panel on prohibition policy
Chandigarh, January 24
The Justice G.S. Chahal Commission of Inquiry has indicted former Haryana Chief Minister, Bansi Lal, his son, Mr Surendra Singh; and the then Prohibition Minister, Mr Ganeshi Lal. The commission was set up by the Chautala Government on December 6, 1999, to probe various facets of the prohibition policy introduced by the Bansi Lal Government in July, 1996.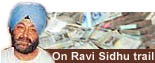 Pak expels four Indian staffers
January 24, 2003
Four Pak Mission staffers expelled
January 23, 2003
Nod to jail term for insulting Tricolour
January 22, 2003
Pak cops harass diplomat again
January 21, 2003
Indian diplomat harassed in Pak
January 20, 2003
LeT turning global
January 19, 2003
Cabinet reshuffle in 2 phases likely
January 18, 2003
Shinde to replace Deshmukh
January 17, 2003
Cabinet Secy convenes meeting on SYL
January 16, 2003
Chautala, MPs meet PM on SYL
January 15, 2003