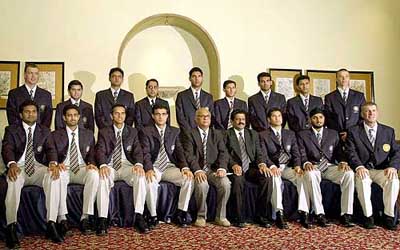 The Indian cricket team poses for photographers in Mumbai on Tuesday, before leaving for South Africa for the upcoming World Cup. Top row (L-R): Andrew Leipus (physiotherapist), Parthiv Patel, Dinesh Mongia, Amrit Mathur (media manager), Yuvraj Singh, Ajit Agarkar, Zaheer Khan, Sanjay Bangar and Adrian LeRoux (trainer). Bottom row (L-R): Javagal Srinath, Anil Kumble, Rahul Dravid, Saurav Ganguly, Jyoti Bajpai (manager), Karunakaran Nair (BCCI secretary), Sachin Tendulkar, Harbhajan Singh and John Wright. — Reuters
Sachin set to become highest scorer
New Delhi, January 28
A nightmare for bowlers worldwide, Sachin Tendulkar is set to add another chapter to his glittering career when the World Cup gets underway in South Africa early next month.
Tendulkar's current role clips his wings
THE Indian team is licking its wounds after getting a hiding by the Kiwis but the country is riding a wave of hope, expecting an avalanche at the World Cup. Frankly, India can go the distance so long as it gets fine-tuning right.
Trescothick keen to restore pride
London January 28
A bad thing happened to Marcus Trescothick's reputation in Australia in the run-up to the World Cup. It got broken. In cricketing terms, the left-handed opener got 'found out'.


Indian cricketers undergo dope test
Mumbai, January 28
South Africa bound Indian cricketers underwent the rigours of a second dope test in 18 days here today as a precautionary measure.
First cricket World Cup transformed one-day game
London, January 28
Frost, rain and even snow lingered into June during the frigid English spring of 1975. The portents could hardly have been less auspicious for the first cricket World Cup. This, though, was to be no ordinary summer and cricket was never to be the same after the first global gathering of a game born and nurtured in the English countryside.
Injuries may prove 'beneficial'
Brisbane, January 28
Australia's injury worries could actually help Ricky Ponting's team win successive cricket World Cups, coach John Buchanan said here today. Rather than fret over injuries to key bowlers Glenn McGrath and Shane Warne, Buchanan hopes the enforced rest has sharpened his players for their opening match with Pakistan in Johannesburg on February 11.


Kapil adjudged Ceat Cricketer of Century
Mumbai, January 28
The Wisden Indian Cricketer of the Century Kapil Dev added another feather to his cap when he was declared as the Ceat International Cricketer of the Century today. The RPG Group Chairman Harsh Goenka made this announcement at a press conference here. Meanwhile, Sri Lankan off spinner Muttiah Muralitharan continued to dominate the Ceat ranking winning the Ceat Cricketer of the year 2001-02 award for the second consecutive year.


Former Indian all-rounder Kapil Dev (R) poses with former Indian batting legend Sunil Gavaskar after receiving the International Player of the Century award from Gavaskar at the 7th International CEAT Cricket Rating Awards in Mumbai on Tuesday. — Reuters photo
Ranji Trophy: Himachal crash to big defeat
Mumbai, January 28
Mumbai today scored a convincing 10-wicket victory over Himachal Pradesh to grab a bonus point on the last day of the Elite group 'A' Ranji match at the Wankhede Stadium here.
Bengal frustrate Delhi

Bonus point for Punjab
Caravan of goodwill
Mumbai, January 28
Emami's "Sona Chandi Ka Nara World Cup Hamara" caravan, wishing the South Africa bound Indian World Cup cricket team best of luck, completed its journey here today.
Jaffer bereaved
Mumbai, January 28
Cricketer Wasim Jaffer's mother, Zulekha Jaffer, passed away in the early hours today after a brief illness, according to family sources. She was 60.


NATIONAL FOOTBALL LEAGUE
JCT stun Churchill; Bagan rout Dempo
Margao, January 28
JCT Phagwara struck once in each half to stun last year's runners-up Churchill Brothers 2-0 in their tenth round of the National Football League here today. The millmen were outstanding today to register their third win, while Churchill missed medio Noel Wilson and defender Mahesh Gawli and failed to combine as a team and let their opponents function freely.