THE TRIBUNE MAGAZINES
On alternate Mondays

On Sundays
On Saturdays
IN PASSING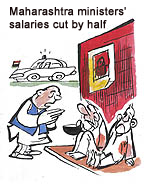 May I sit next to you?
by Sandeep Joshi
| | |
| --- | --- |
| | The President of the Indian National Lok Dal and Haryana Chief Minister, Mr Om Prakash Chautala, along with his sons Ajay and Abhey, sitting on collective fast against an article entitled ďMaximís kick-ass work-outĒ published in Maxim, a US-based magazine depicting a muscle-man beating up an image of Gandhi, at Rajghat in the Capital on Thursday. ó Tribune photo Mukesh Aggarwal |
PMís security breached again
New Delhi, January 30
Less than 48 hours after a car was apprehended for breaking into the Prime Ministerís cavalcade, a motorcyclist strayed into the high-security circuit here today. The motorcyclist barged into the PMís cavalcade this morning near India Gate causing an alarm to the security guards.

In video (28k, 56k)


BJP renominates 26 MLAs

New Delhi, January 30
The Bharatiya Janata Party today renominated 26 legislators, including Chief Minister P.K. Dhumal, denying the ticket to eight MLAs for the February 26 elections to the Himachal Pradesh Assembly.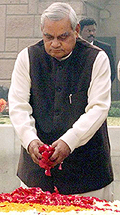 Gandhi Peace Prize
New Delhi, January 30
The Gandhi Peace Prize for 2002 will be conferred on Bharatiya Vidya Bhavan in recognition of its contribution to the spread of education and cultural values among all religions and communities.
Prime Minister Atal Behari Vajpayee pays tributes at the memorial of Mahatma Gandhi on the 55th anniversary of Ghandhi's assassination in New Delhi on Thursday.
ó Reuters photo


In video: India on Thursday paid homage to the apostle of peace, Mahatma Gandhi, on his 55th death anniversary. (28k, 56k)

Legal wrangle stalls on-line lottery
Chandigarh, January 30
The road to on-line lottery in Haryana seems to have developed potholes. The state government had to reinvite tenders for its plan to start an on-line lottery after the first call failed to evoke an encouraging response. Informed sources say five parties applied when the government again invited the tenders.
In Career Guide today
Sports page
Jaitley, Thakur get Cabinet berth
January 30, 2003
Congress splits in UP
January 29, 2003
Question mark over Bathinda refinery
January 28, 2003
Fresh threat to Bathinda refinery
January 26, 2003
India, France sign extradition treaty
January 25, 2003
Pak expels four Indian staffers
January 24, 2003
Four Pak Mission staffers expelled
January 23, 2003
Nod to jail term for insulting Tricolour
January 22, 2003
Pak cops harass diplomat again
January 21, 2003
Indian diplomat harassed in Pak
January 20, 2003