Thursday, February 27, 2003, Chandigarh, India



EARLIER STORIES

February 25, 2003
Patiala fest ends at Dil Se number

Amritsar festival next

February 24, 2003
'Ghungroos' cast magic spell on audience

Convincing win for Quila Mubarak

February 23, 2003
Pandit Jasraj mesmerises audience

Patialvis witness fashion show

Patiala XI beat Rest of India by 93 runs

Quila Mubarak: Celebration of Patiala's cultural heritage

February 22, 2003
'Ghasi Ram Kotwal' visits Patiala

Dedicated to Kalpana

Heritage cricket tie today
February 20, 2003
Jagjit, Hans enthral audience

Works of contemporary artists on display


Wichhre Pani — music, songs score over portrayal


February 19, 2003
Ustad Vilayat Khan weaves magic

February 17, 2003
Sonal Mansingh casts a spell

February 16, 2003
Dying art forms liven up fest

CM for Taj Hotel in Patiala
February 15, 2003
Patiala heritage fest opens
February 14, 2003
Punjabi ambience for Crafts Mela

February 13, 2003
Maharaja's dream forgotten

February 9, 2003
Heritage Festival to put Patiala on tourist map
P A T I A L A H E R I T A G E W E E K
Craft fair to go on till March 2
Tribune News Service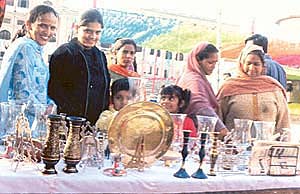 Women have a close look at crystal and brassware at a stall in the craft fair in Patiala on Tuesday. — Photo Subhash Patialvi
Patiala, February 26
Heritage festival ended three days ago, but the craft fair will continue till March 2. As many as 150 craftsmen are participating in the fair. Local citizens seem to have risen to the occasion by attending and buying goods to ensure that the fair turns out to be a success and artisans who have travelled from all over the country do not return home disappointed.
Last Sunday was a day of record sales at the fair. More than 15,000 people attended the fair. "Even dry flower sellers have done a business of nearly Rs 50,000", said one stall owner.
Most of the artisans did not expected this. "Many of us came here on an experimental basis", said Dibujit Sharma from Dibrugarh in Assam. Dibujit, who has brought traditional handicraft items with him, said he had sold articles worth Rs 16,000 on Sunday itself. Others have also not done badly. Sunil Kumar from Aligarh who has brought ethnic cotton kurta pyjamas to the fair said sales were above expectations. In fact there were a few who have not recorded good sales, particularly Barkat Jan from Kashmir and a woollen carpet seller Chandu Ahmed from Gorakhpur. Some artisans could not sell their goods because they did not reckon with the tastes of the local women. Sudha Jain from the Indian Women Handicraft Utthan Society said she could not sell her cotton suits because local women wanted suits of five metre length and were not ready to buy anything less than that. "I did not know that the Patiala salwar used more cloth", she said adding that other work, including shoe kits and make up kits, were doing well.
Goldy Kalra, who is one of the few local craftsmen to put up a stall at the fair, said he was participating in the fair to popularise his shop which was situated in Tripri. He said Tripri was a stronghold of reasonably priced quality embroidery products due to the presence of a large number of migrants from Bahawalpur who have settled here after Partition. He said the fact that the city was exposed to quality craft for the first time could have also contributed to the sales.
The only point some artisans feel could have been tackled better was the publicity of the fair. Sales did not pick up for a few days due to the lack of publicity. The general impression among the people was that the crafts fair had also ended with the Heritage festival.
Additional Deputy Commissioner Shiv Dular Singh Dhillon said the fair was attracting 4,000 to 5,000 persons on a daily basis.