M A I N N E W S
Talks with truckers fail
PM asks Mahajan to intervene
S. Satyanarayanan and Gaurav Choudhury
Tribune News Service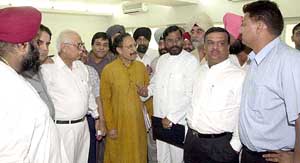 Minister of State for Transport B. C. Khanduri after the meeting with transporters in New Delhi on Thursday.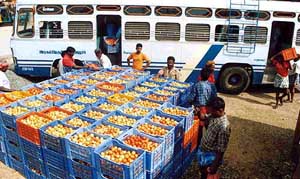 Tomatoes being offloaded from a government passenger bus in Chennai on Wednesday. — PTI photos

New Delhi, April 17
The first round of official negotiations between the agitating truckers and the Government failed to make any headway today. Meanwhile, Prime Minister Atal Behari Vajpayee has asked former Union minister and BJP general secretary Pramod Mahajan to hold informal negotiations to end the stalemate.

Mr Mahajan was asked by the Prime Minister over telephone this morning to hold informal parley with the striking truckers' association to arrive at an early resolution of the issue, sources said here.

Senior BJP leader and Delhi BJP unit chief Madan Lal Khurana had yesterday urged the party high command for intervention from the "highest level" to end the imbroglio as the continuation of the strike for long could affect the party's electoral prospects in the coming Assembly poll in the national capital, the sources added.

Minister for Road Transport and Highways B.C. Khanduri had convened a meeting at his office with representatives of the agitating truckers led by president of the All-India Motor Transport Congress B.N. Dhumal this morning.

Although the meeting could not arrive at any mutually acceptable solution, Mr Mahajan may hold an informal meeting with the AIMTC representatives again.

Speaking to newspersons earlier after emerging out of the one and a half hour meeting with Mr Khanduri, Mr Dhumal said that the talks did not make much "headway".

"The minister did not give any assurance on any of our 10 demands and we will continue our strike till our demands are met", he said. Mr Khanduri, only said: "the talks will continue".

Mr Dhumal said the AIMTC has sought a meeting with the Prime Minister to bring to his notice the "harassment" meted out by some state governments

to truckers in the name of toll and entry tax. AIMTC general secretary J.M. Saksena said: "There was no commitment from either side. In the absence of any commitment, we have decided not to withdraw the strike".

Even as both parties maintained that talks will continue, no time frame has been set for convening the subsequent round of formal talks. Officials in the Ministry of Surface Transport termed the meeting as "constructive".

The AIMTC has laid before the government a 10-point charter of demands. These include the withdrawal of cess on diesel, preventing insurance companies from flouting IRDA norms and scrapping of toll tax, among others.