HOROSCOPE
THE TRIBUNE MAGAZINES
On alternate Mondays

On Sundays
On Saturdays
IN PASSING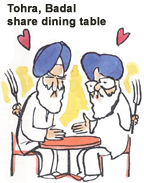 by Sandeep Joshi
Relatives and local residents mourn the death of a J&K police personnel in Srinagar on Thursday after he was killed in an
explosion at Chichloora village.
— AFP photo
Two LeT militants nabbed in Thane
Chalabi aides interim leaders
Dubai, April 17
Two close associates of Mr Ahmad Chalabi, head of the Iraqi National Congress and the man tipped to be Iraq's next leader, have been made interim leaders of Baghdad.

World page:

Syrian draft on WMD in Security Council

USA for end to UN sanctions on Iraq
Couple's humiliation: SHO shifted
Ropar, April 17
Owing to the pressure from the villagers of Bass, the Senior Superintendent of Police at Ropar, Mr G.P.S. Bhullar, today ordered the transfer of the SHO of the Nangal police station, Mr Bhupinder Singh. Mr Varinder Deep Singh has, now, been appointed the Nangal SHO.

Earlier stories:
April 16: Cops beat up octogenarian couple
April 17: Cops didn't listen: old couple
NC to stay away from PM's meeting today
Srinagar, April 17
Tight security arrangements have been made in view of Prime Minister Atal Behari Vajpayee's visit here tomorrow. Mr Vajpayee would be the first Prime Minister to address a public meeting here since the eruption of militancy in Jammu and Kashmir, after a gap of more than 16 years.

Haren Pandya case: 4 held
Hyderabad, April 17
In the first arrest in the sensational Haren Pandya murder case, the CBI today nabbed four persons from Andhra Pradesh, who are said to have received arms training in Pakistan.


Pak unnerved by new Kashmiri outfit
New Delhi, April 17
On the eve of Prime Minister Atal Behari Vajpayee's visit to the Kashmir valley, several Pakistani origin exiled leaders announced the formation of the International Kashmir Alliance, throwing a spanner in the Pakistani establishment.
In Career Guide today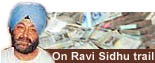 USA blocks Iraq-Syria pipeline
April 17, 2003
16,000 Iraqi soldiers surrender
April 16, 2003
Tikrit falls to allies
April 15, 2003
Fierce fighting near Tikrit
April 14, 2003
Northern Iraq falls to coalition forces
April 13, 2003
CBI unearths major IT refund scam
April 12, 2003
Allies meet fresh resistance
April 11, 2003
Looting erupts in Baghdad
April 10, 2003
Allies hound Saddam with bunker-buster bombs
April 9, 2003
US forces seize Saddam's palace
April 8, 2003
US plane lands at Baghdad airport
April 7, 2003

US tanks roll into Baghdad
April 6, 2003