HOROSCOPE
THE TRIBUNE MAGAZINES
On alternate Mondays

On Sundays
On Saturdays
IN PASSING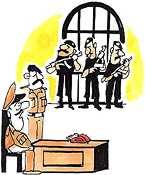 So many black cats. Looks like VIPs have far out-numbered the ordinary prisoners!

by Sandeep Joshi
HP can tax goods going by road
New Delhi, May 12
In a major relief to the Himachal Pradesh Government the Supreme Court has upheld the validity of an Act passed by it 1991 for levying tax on certain goods transported by roads to generate more revenue for their maintenance.
Cong high command's no to casinos
Govt-party gap dominates PPCC meeting
Chandigarh, May 12
The issue of lack of communication between the Congress and the government in Punjab dominated the proceedings of the first extended meeting of the Punjab Pradesh Congress Committee here today.
Scrutinise left-out cases in kidney racket, DIGs asked
Amritsar, May 12
More heads are likely to roll in the multi-crore kidney transplant racket even as the state government has directed the DIGs of all six ranges, including Jalandhar, Ludhiana, Patiala, Border (Amritsar and Gurdaspur districts), Faridkot and Ferozepore to conduct range-wise left-out cases.
FATEHABAD BYELECTION
Election is defection time
Fatehabad, May 12
The election time is defection time as well. More so in Haryana, known as the 'land of Aaya Rams and Gaya Rams'.
NDA MPs press govt to reduce phone tariff hike
New Delhi, May 12
Members of Parliament belonging to the NDA have approached individually and collectively Prime Minister Atal Bihari Vajpayee and Union Communications Minister Arun Shourie demanding the immediate reversal of the decision to increase the basic telephone tariff.


Cricket match to open IIFA awards function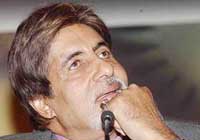 New Delhi, May 12
The International Indian Film Academy (IIFA) awards presentation ceremony scheduled in Johannesburg on Saturday will be preceded by a Samsung-IIFA Celebrity Charity Cricket match.

Bollywood mega star Amitabh Bachchan during a Press meet of the International Indian Film Academy (IIFA) in New Delhi on Monday.
— PTI photo

In Education Today
13 die in Bengal poll violence
May 12, 2003
Terror must end, India tells US
May 11, 2003

India differs with Armitage
May 10, 2003

Vajpayee rules out denuclearisation
May 9, 2003

Menon's name as envoy sent
May 8, 2003

Brajesh meets Armitage on way to USA
May 7, 2003

Jamali confers with parties
May 6, 2003

PM names LCA as 'Tejas'
May 5, 2003

Pak PM Jamali invites Vajpayee
May 4, 2003

India renews peace initiative
May 3, 2003