THE TRIBUNE MAGAZINES
On alternate Mondays

On Sundays
On Saturdays
IN PASSING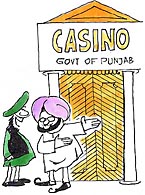 Raja Sa'ab, whose prosperity is important — the state or public?
by Sandeep Joshi
Pak raises Kashmir issue at UN
India favours bilateral talks
United Nations, May 14
Ignoring the raking up of the Kashmir issue by Pakistan during a debate in the UN Security Council, India said bilateral negotiations were the "most preferred" means for resolving bilateral disputes.
Judges' case: more officials in CBI net?
Chandigarh, May 14
The names of some more judicial and police officials are expected to surface during the investigations of the corruption case involving Jalandhar's District and Sessions Judge R.M. Gupta and UT Judicial Magistrate (First Class) S.S. Bhardwaj.
CBI demands call details of R.M. Gupta
Jalandhar, May 14
The CBI has sought details of telephone calls made and received by the suspended District and Sessions Judge, Mr R.M. Gupta, at his official residence here during the past three months in its bid to corner those conduits, who were reportedly instrumental in negotiating alleged deals on behalf of Mr Gupta to favour litigants.
Chandigarh Tribune: Judge still on the run
Madhumita murder mystery deepens
Lucknow, May 14
The mystery surrounding the murder of a young woman poet here last week has deepened with a mobile phone seized from her residence now said to be in the custody of Uttar Pradesh Minister Amar Mani Tripathi and the "sudden disappearance" of her 12-year-old domestic help Desraj, who had reported the murder first.
Medical officers land college in the soup
Audit objects; relieve them, says Principal
Amritsar, May 14
Even as about 40 per cent vacant posts of professors, assistant professors and lecturers may lead to the de-recognition of the local medical college by the Medical Council of India (MCI) any time, the posting of 60 medical officers against the vacancies of faculty members has led to audit objections.
29 killed in Saudi bombings
May 14, 2003

Mufti for 'softening' of LoC
May 13, 2003

13 die in Bengal poll violence
May 12, 2003

Terror must end, India tells US
May 11, 2003

India differs with Armitage
May 10, 2003

Vajpayee rules out denuclearisation
May 9, 2003

Menon's name as envoy sent
May 8, 2003

Brajesh meets Armitage on way to USA
May 7, 2003

Jamali confers with parties
May 6, 2003

PM names LCA as 'Tejas'
May 5, 2003