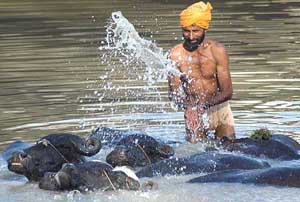 A man cools himself in a pond along with his cattle in Amritsar on Tuesday. — PTI photo
District Complex to house archives
Patiala, June 3
In another turnaround on the eventual home of archival records of the seven former princely states of Punjab, the government will now house them in the offices of the district complex situated on the Mall road which is slated to be relocated to new premises on the Jail Road next month.
SAD ready to face challenge
Muktsar, June 3
With the panchayat elections approaching, the SAD is all geared up, while the Congress is yet to mobilise its rank and file. For the past four weeks, former Chief Minister Parkash Singh Badal, along with members of his family, including Mr Gurdas Badal and Mr Manpreet Badal, are touring different parts of the Malwa region to mobilise SAD workers.
Punjab hires PR agency
Chandigarh, June 3
The Punjab government has hired a Delhi-based professional PR agency, Lexican, to "properly project" the activities and achievements of the Amarinder Singh government in the national capital and elsewhere in the country.


Video
Vikrant, a Punjbai singer brought up in the UK, has developed his unique brand of music, something of a mixture of bhangra beats and western tunes, with a dominating dose of the former.
(28k, 56k)
War of words between Singla, Arshi
Bathinda, June 3
The war of words between the local MLA, Mr Surinder Singla, and a CPI leader, Mr Hardev Arshi, over the issue pertaining to the Congress-CPI alliance intensified further today when Mr Arshi alleged that a section of Congress leaders were watching the interests of business houses in the country instead of defeating the communal forces. Whereas Mr Singla alleged that the CPI leader had used trade unions to promote his own business.
Mann asks Advani, Joshi to resign
Sangrur, June 3
Mr Simranjit Singh Mann, MP and President of the Shiromani Akali Dal (Amritsar), today urged the President of India to dismiss the Deputy Prime Minister, Mr L.K. Advani, and the Human Resources and Development Minister, Mr Murli Manohar Joshi, from the union cabinet if they did not tender their resignations in the view of filing of a supplimentary charge sheet against them by the CBI in a special court at Rae Bareli in connection with the Babri Masjid demolition case.
SAD heavy weights 'at logger heads'
Nabha, June 3
The differences in the Shiromani Akali Dal came in to fore at today's meeting held by local Akali leaders. Raja Narinder Singh, former MLA presided over it. Most of the speakers resented interference by General Secretary, SAD and former Finance Minister, Captain Kanwaljit Singh. They took a strong notice of appointing Circle-level party officials in Nabha constituency.
Dept awaits funds for flood control
Ropar, June 3
The Punjab Government has failed to release funds sought by the local Drainage Department for flood control measures in the district. There are a large number of seasonal rivulets in the district and the Drainage Department authorities had sought about Rs 3 crore from the government in this regard.
Surprise checks by Bir Devinder
Kharar, June 3
Mr Bir Devinder Singh, Kharar MLA and Deputy Speaker of the Punjab Vidhan Sabha, paid a surprise visit to government hospitals in Gharuan village, Kharar and SAS Nagar in the early hours of the day yesterday and checked the presence of doctors and staff and enquired about the treatment given to patients.


Illegal religious structure demolished
Tira (Kharar), June 3
A religious structure, which was declared unauthorised by the Roopnagar district administration, was demolished in Tira village today. The structure was constructed on the "deh shamlat" land about three decades ago.


Labourers fence the land after demolishing a religious structure at Tira village on Tuesday. — A Tribune photograph
Wife, 3 others get life term for murder
Bathinda, June 3
A woman and three of her accomplices who were accused of killing her husband were sentenced to life imprisonment on Monday by the District and Sessions Judge, Mr Lakhbir Singh today.
HIGH COURT
Property
Chandigarh, June 3
If allegations in a case are to be believed, two Gurdaspur residents mortgaged the property of a third person with the Punjab Financial Corporation using another women to pose as the owner.
Relief for border land owners
Ferozepore
Following an attack on the Indian Parliament, the Army moved to the frontier areas and took position along the Indo-Pakistan border in December, 2001. Mines were installed at an unprecedented scale all along the border. Despite the best efforts, these mines could not be laid in the manner which would not disturb life of the people in the border areas.
9 water samples fail purity test
Sangrur, June 3
Out of the 101 water samples collected by the district health authorities from ice factories, marriage palaces, dhabas and municipal committee water sources in Sangrur district during the past few months, nine have failed the purity test.
Illegal quarrying of sand detected
Gurdaspur, June 3
Illegal mining of sand from the area of panchayat of Kasoor village in Dera Baba Nanak Development block on Indo-Pakistan border in this district has come to light. Mining of sand from the shamlat land of the village and custodian land has also been reported from the village.
Evasion of stamp duty detected
Chandigarh, June 3
A scandal with regard to the evasion at stamp duty has come to the notice of the Punjab Government in Amritsar and Muktsar districts where nature of cultivating land had been changed. In this regard a survey has been ordered by the revenue department.
Inform cops before employing migrants
Bathinda, June 3
Mr Anurag Aggarwal, District Magistrate, today imposed a ban on traders, industrialists, farmers and others on giving employment to migrants without informing the police station concerned.
Heat wave claims two lives
Bathinda, June 3
Intense heat wave, sweeping the region for the past many days, claimed two lives in the past 24 hours.
Plea to appoint dependents
Fazilka, June 3
Mr Ashok Kumar Monga and Mr Raj Kishore Kalra, senior vice-president and press secretary of the Punjab Non-Gazetted Employees Organisation, respectively, in a statement here today criticised the decision of the Punjab Government to ban recruitment on compassionate grounds. They said as a result of this decision, 5,000 dependents of those who had died in harness in different departments shall be deprived of jobs.
Sub-Inspector, ASI booked for graft
Amritsar, June 3
The local police today booked Inderjit Singh and Gurvinder Singh, Sub-Inspector and Assistant Sub-Inspector, respectively, CIA staff under corruption charges at police station C Division on the directions of the Punjab and Haryana High Court.
Tax refunds released
Phillaur, June 3
The Income Tax Department has released the refunds to assessees who had filed their returns before December 31, 2002.
Farmers to get 8-hr power supply from June 5
Patiala, June 3
In view of the persistent demand by farmers, the Punjab State Electricity Board chairman, Mr Y.S. Ratra, has decided to give eight-hour regular power supply to agricultural consumers from June 5 instead of June 10.
13,527 quintals of wheat 'missing' from godown
Mansa, June 3
As many as 13527.44 quintals of wheat is alleged to be missing from godowns of the District Food and Supplies Department at Budhlada in the district.
Wasteland project implemented
Chandigarh, June 3
The centrally sponsored scheme of integrated wastelands development project, has been implemented to develop non-forest wastelands on village/micro-watershed basis, according to a spokesman for the Punjab Rural Development Department, the scheme helps generate employment in rural areas besides enhancing people's participation in wasteland development.


Fair-price shop holders told to get new licences
Ropar, June 3
The Public Distribution System fair-price shop holders in the state would now have to obtain a fresh licence from the Food and Civil Supplies Department. According to sources, as per directions of the Ministry of Food and Civil Supplies, Punjab, all existing fair-price shop holders would have to apply new licences.


One killed in land dispute
Jalalabad, June 3
Gurcharan Singh (25) was shot dead and his father Balwinder Singh was seriously injured following a scuffle over a piece of disputed land last night.


CET — 2003
PTU fails to declare results
Jalandhar, June 3
Even as most of the candidates, who had appeared for CET-2003 examination for admission to various engineering colleges of the state, remained confused following the failure of Punjab Technical University (PTU) to declare the result today, the Vice-Chancellor, Dr Y.S. Rajan, maintained that the result would be available on its official website by Wednesday evening.
Probe ordered into PTU's course material lapse
Jalandhar, June 3
The state government has ordered an inquiry into the alleged failure of the Punjab Technical University (PTU) officials in providing textbooks and course material to the students enrolled under its Distance Education programme.
Punjabi varsity firm on engineering college
Patiala, June 3
Punjabi University has decided to go ahead with the establishment of an engineering college on its campus from the coming session, despite government reservations. It has decided to put up the matter before the relevant academic bodies this month itself.
Bhupinder tops JET
Chandigarh, June 3
The Punjab State Board of Technical Education and Industrial Training has declared the result of JET-2003, for admission to polytechnic diploma courses in Punjab and Chandigarh. As many as 18,000 candidates had appeared for the test.
Punjabi varsity Heads appointed
Patiala, June 3
Punjabi University Vice-Chancellor Swaran Singh Boparai has appointed Dr Gurbachan Kaur Bhatia and Dr Meenakshi Sharma as Heads of Department of Economics and Education and the Community Service Department, respectively.