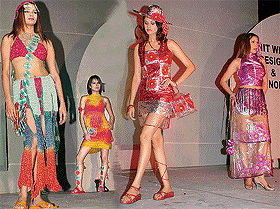 Day of glory for budding designers
SAS Nagar, June 5
It was a day of pride and glory for the budding designers of the Northern India Institute of Fashion Technology here this evening. With models like Mehar Bhasin and Simran Sachdev flaunting their creations, many of the young designers could hardly contain their excitement at "Anukama - 2003", the fashion show organised by the institute to display students' creations.
Models display dresses designed by passing-out students of NIIFT at "Anukama 2003" at Dara Film Studio in SAS Nagar on Thursday. — Photo Parvesh Chauhan

Kanika Garg tops PTU CET
Chandigarh, June 5
Punjab Technical University, Jalandhar, has declared the results of CET-2003, conducted for admission into various engineering colleges affiliated to it. As many as 14,426 candidates had appeared for the test.

SCHOOL WORLD
History: The Indian Opinion
Had Gandhi not become a Mahatma he would have been an ace journalist.
BEANT SINGH CASE
Order on Navjot's plea reserved
Chandigarh, June 5
The UT CBI Special Judge, Mr Balbir Singh, today reserved the order on the two different applications moved by Navjot Singh, one of the accused allegedly involved in the assassination of former Chief Minister of Punjab Beant Singh.