Questions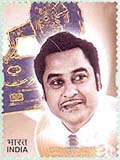 1. Identify the stamp.
2. When was it issued?
3. In what denomination has it been issued?
4. What occasion does it commemorate?
5. How many stamps have been issued in all in this set?
6. Name the other playback legends in whose honour stamps have been issued.
7. His first Hindi song appeared in which film?
8. How many Filmfare awards have been won by him?