Sunday, June 8, 2003
Books
Origin & evolution of language
Gobind Thukral
Signification in Language and Culture
edited by Harjeet Singh Gill. Indian Institute of Advanced Study, Shimla. Pages xi+675. Rs 950.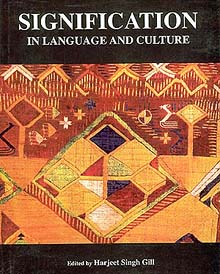 SIGNIFICATION in Language and Culture is an anthology of papers presented at the international symposium on Signification in Buddhist and French Traditions (with its impact on later developments in India and Europe) held at the Institute of Advanced Study, Shimla, in September 2001. In the Introductory Note, the editor, Harjeet Singh Gill, Professor Emeritus of Semiotics, Jawaharlal Nehru University, and Fellow at the Institute presents the main theme of the symposium.
In the sixth and the seventh centuries AD, Buddhist logicians Dignaga and Dharmakirti, proposed a theory of signification and creativity, called apoha, which dealt with the complexities of a linguistic and ontological universe in terms of dialectical and dichotomising relations between all related but distinct entities of human discourses. All comprehension is dialectical and relational.
There is no immediate contact between the spirit and the world; signification and consequently, language is the interface. The fundamental question for linguistics and other philosophers has been from where did the language come? How did it originate and to what consequences ? The origin of language is as obscure as the origin of history. Language is the essence of humanity. Ordinary people do not realise the signification of nouns and verbs and their impact on ideas and ideologies. How important is language and what are its cultural roots . In this context, a thought-provoking paper included in this anthology, "Nagarjuna, Heracletius and the Problem of Language," by Oxford don, Professor Roy Harris makes an important contribution towards not only a better understanding of the French and Buddhist traditions, but also towards a greater comprehension of Language itself. Harris, founder of the integrationist school of thought, who delivered four thought-provoking lectures in 2002 on the signification of language, wherein he asserted that there can never be any standard English language.