Return of the most wanted
There is no hint of bitterness in his voice as Suhaib Ilyasi, erstwhile producer of one of Indiaís most popular TV shows, tries to reshape life after three years of pain and incarceration. The 37-year-old Ilyasi is ready to pour his heart out. "I am amazed at the way things turn out if one tries to fight the system. Yet I am not the one to say die."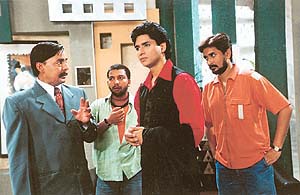 Ilyasi (centre) in Wanted No. 1 ... Catching criminals on film

Indiaís Most Wanted is a thing of the past for Ilyasi and now he is making a foray in films. Heíll be seen on the big screen in a film evocatively titled Wanted No. 1. "Itís a movie with a mission that reveals how our social system creates criminals," says producer, director and lead star Ilyasi.
So is it goodbye to television? No, says Ilyasi. In fact, the craving for going back to Indiaís Most Wanted keeps growing all the time. The crusading show cut short the thriving careers of crooks, kidnappers and murderers. That was when fame, glory and recognition in high places greeted this Jamia Milia communications graduate, making him an overnight celebrity.
Ilyasi hopes Wanted No. 1 will bring back the glory days as the film too revolves around a man who fights brings criminals to justice. There appear to be autobiographical shades in the story. But he vehemently denies it. "One builds on experience but that doesnít mean itís my story. Itís not." True. Ilyasiís story would be far more full of fire and brimstone!
Ain-e-Akbar!
He could easily pass off as Indiaís very own Tim Sebestian. And even as author-journalist M.J. Akbar starts anchoring Akbar Ka Darbar, Sundays, 8 p.m. on Star News, the similarities go beyond the physical.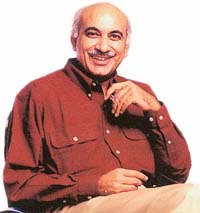 Akbar in Akbar ka Darbar... In the corridors of power


In the one-hour weekly show, Akbar takes on politicians, legal luminaries, business tycoons and high flying journalists who frequent the corridors of North and South Blocks on issues that dominate the Indian political scene.
The highlight of the show is Capital Gang that has Akbar with his colleagues from the media in animated discussion on the inside track of politicians ó a satirical view of who moved up and who moved down that week.
Other segments include Your Story ó the personal tale of an Indian citizen which in its larger perspective has a bearing on the system, and On the Boil ó about a festering problem that eludes an easy solution.
For those who like heated debate, Akbar Ka Darbar has plenty of it. And thereís also an attempt at political accountability with Akbar asking blunt questions. An absorbing show that will keep you glued from start to end.
Something to smile about
Men have always complained that women crib. And women never tire of grumbling about male dominance. Most households have similar attitudes and problems. Except Durgadeviís house where the roles are completely reversed.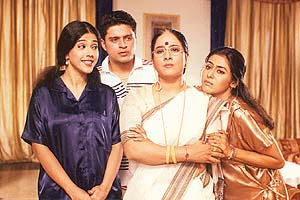 Scene from Sahib Biwi Ke Gulaam... Rib-tickler
Sahib Biwi Ke Gulaam, Monday and Tuesday at 9.30 p.m. on Sab TV, stands out among the other damp squib comedies like Dhaba Junction and Hussi Who Phassi that were supposed to be the drivers of the only smiles, no tears channel.
Produced by Rajiv Mehra (Office Office), Sahib Biwi Ke Gulaam revolves around a household where it is a tradition that a man has to be a Ghar Jamai after marriage. Where men run kitchens and women control money.
Battlelines are firmly drawn with Durga Devi and her two daughters on one side and Durga Deviís husband, her ghar jamai and the son on the other side. All set for a royal battle of the sexes.
Though loud in parts, the comedy has its funny moments though one wishes serial maker Mehra had once again opted for Pankaj Kapoor whose brilliant sense of comedy can infuse a timeless quality to a serial.
Going places

Manav... Roles galore
Remember the bubbly host of Channel Vís Patli Gali? No? Then perhaps youíll recall Dhruv of Kahani Terii Merii on Sony TV. The show and the serial may not have set the popularity ratings on fire but they sure have put Manav Govil on centrestage.
The young man from Baroda has come a long way from his struggling days and is now a sought-after star on the small screen after cameos in Kahani Ghar Ghar Ki, Kkusum, Kasauti Zindigi Kay and Choodiyan.
Though heís signed over half a dozen serials, the one heís keenly looking forward to is Sara Akash to be aired on Star Plus where he plays the role of a young and flamboyant Air Force officer.
Soon viewers will see him as ĎCaptiní the jungle boy in Shhhhh....Koi Hai where the lead role of ĎVikraalí is played by Mamik. Says Manav, "I donít mind doing the second lead as long as the role is meaty." One sure hopes he knows the difference between second lead and second fiddle!
Diagnosing disaster
All is not well in paradise. A woman from Maui in Hawaii enters a health clinic with diarrhoea and flu-like symptoms. Within a matter of weeks, over a hundred cases of dengue fever are diagnosed. An aggressive mosquito eradication campaign pays off with just 200 people infected ó and none dead.
Due to the tropical geography, officials search house-to-house, finding and spraying any possible mosquito breeding sites. The quick, aggressive strategy pays off, with the final tally of the outbreak at under-200 people infected ó and none dead.
Through interviews and first-person account Diagnosis Unknown, every Friday at 1 p.m. on Discovery, reveals how science fights back against deadly germs and sudden outbreaks.
Episodes recount the drama of real public health crises, spotlighting the disease trackers who race against the clock to protect people from deadly diseases.
Every second counts. In addition to treating the patients, doctors and public health officials must become detectives and locate the culprit before it takes another victim. A must-see show, especially for people dealing with public health.
ó Mukesh Khosla