Sunday, June 8, 2003

Feedback
Common girl with uncommon grit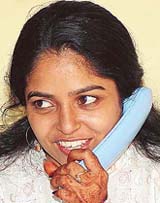 THIS is with reference to the article "Common girl with uncommon grit" (May 25) by Smriti Kak.
I feel very strongly about Nisha taking such a bold step against dowry in front of thousands of people and that too in the 12th hour itself. When a girl is about to be married, she has so many dreams as well as unsaid fears in her mind about the new world that she is going to be a part of. Nisha might have been in the same situation, thinking of a completely unknown life in just a few hours. But seeing the increase in unending demands by her would-be-in laws, she called off the marriage and took a bold step of calling police, leaving the would-be-in laws completely abashed. For some, it could be dreams turned to ashes but for Nisha it was rising like a phoenix from those ashes, only because she was strong enough to take the right step at the right time. She might have felt bad, but she now looks forward to her life, studies and career.
Any self pity that she might have harboured lies safely beneath "gifts" from the paternal home. More the people give, greater is the lust for more. That this lust proves fatal is a well-known fact. What a pity, that still in our society, woman who is regarded akin to god, is illtreated and even burnt to death if she is unable to fulfil her in-laws' immense greed. The media is responsible for communicating Nisha's story to people and awakening the consciousness of many girls across India.
Come what may, girls like Nisha have proved that still they are a stronger sex. They have proved that may be slowly but steadily they can give a new outlook to Indian society. Hats off to Nisha and girls like her.
Balwinder, Shimla