Sunday, June 8, 2003
Books
Quest in the realm of tantra
Krishan Malhotra
Mahayana Tantra: An Introduction
by Shri Dharamakirti, Penguin, New Delhi. Rs 200.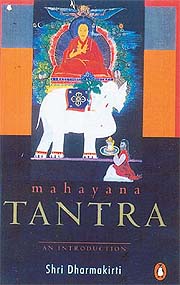 THIS book may be called as 'Experiments with Truth' because it not only offers an exposition of Mahayana Tantra but it records the personal experiences of the author in the realm of spirituality. The author is a disciple of His Holiness The Fourteenth Dalai Lama. He was born in a Sikh family at Shimla, in the Himalayan mountains. He studied bio-chemistry in college, and later worked as an advertising executive and computer programmer. After encountering the Prasangika Madhyamika system of Arya Nagarjuna, he left home when he was 27 and became the disciple of His Holiness The Dalai Lama. During the six years he spent at the feet of his Guru in Dharamsala, he received the initiations and was inducted into the lineage of Lama Tsongkhapa. He now lives in the Kulu Valley, and occasionally teaches. This book seems like John Bunyan's Pilgrim's Progress. The author himself says."... this book is not only an account of my explorations into the 'body of reality' but also, in an immediate and intimate sense, an exploration into the heart of Mother India.'
The writer is aware that many persons have not only misgivings about tantra, but they look down upon it with cynicism. Quite a few modern educated Indians regard the mere mention of the word tantra with suspicion. It evokes images of shady sadhus and yogis stalking the corridors of power in Delhi and of fake godmen, conning the gullible with mumbo-jumbo. They associate tantra with weird rituals to propitiate bloodthirsty goddesses and gods, animal and human sacrifice and with black magic. But the author wishes to dispel such wrong notion when he says, "Buddhist Tantra, which has been absent from the Indian mainstream for over a thousand years, is far removed from such shamanism". Perhaps what goes by the name of tantra today is the degenerated version of an 'original' Buddhist tantrik culture which flourished prior to the eighth century in various regions spanning from Khotan and Bamiyan to Kashmir and the Swat Valley (in Pakistan); from Dhaka and Angkor to Andhra Pradesh. And these regions were devastated by the sword of Islam.