After all, what is taking place here is human growth; we can't fence it. But, we definitely can provide for it to take place in a regulated manner.
Whether the city should be allowed to grow further in spatial terms or not is now no more an issue. That, in any case, is happening. If we allow this to carry on, it would not be possible to make a plan later, least of all implement it. These pockmarks on the beautiful face would remain. Rather than allow these as random eruptions, let them come up as planned beauty spots.
We have had a few instances of planned expansion across the periphery area. Panchkula, SAS Nagar, cantonment, etc., have served a definite purpose. Though a macro-level lack of planning may be pointed out. They came up independent of each other. It would be better if future satellite towns coordinated with all the players in the region. Today, commuting between these towns, for example, is cumbersome.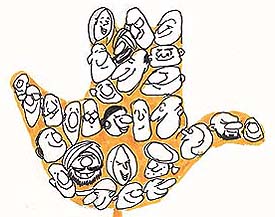 Slums, a bane of urban development, play their part in Chandigarh too. The slum-dwellers are usually treated as something to get rid of and their abodes an eyesore. But the fact remains that the "planned" citizenry pays them to stay here. The interest is mutual. Like it or not, unskilled labour is the engine of our economies, and their legitimate needs have to be catered to. As things stands today, they are just pushed around, forced to be an "eyesore."
Immigration of all kinds of people is likely to continue. And that's welcome, for it indicates the city is desirable, and, thus, alive.
The middle class, which incidentally makes for the flesh of the city, has a common complaint. It finds living here unaffordable in terms of rent and land cost. Sandeep Chouhan, a young entrepreneur running an IT start-up, found it too expensive to operate from within the city. While he is getting business, yet he found it better to shift his office to the outskirts. Residents feel that while their incomes are those of a small city, the rents are metropolitan—a mismatch.The source of all this trouble seems to be a lack of legitimate scope for expansion.
Where to now?
The mother planners of the city provided for a legislation to check unplanned growth around the periphery of the city. The core city itself seems to have run out of space; otherwise why would people of all hues, from labourers to retired bureaucrats, indulge in illegitimate construction in violation of the Punjab New Capital (Periphery) Control Act. They are not criminals, just ordinary citizens trying to meet their legitimate needs, albeit in violation of the law.
M. Ramsekhar, a bureaucrat with experience in urban development who has just completed his four-year tenure as Deputy Commissioner of the city, points out that the Act does not inhibit growth per se; it is only against unplanned growth. The governments concerned can always make proper town plans and have them duly sanctioned.
No law can be kept frozen for all times, he feels. There has to be dynamism in the laws that govern a city. Our modes of living change, and laws have to be adapted accordingly, striking a balance between individual freedom and ordered living. This very Act can actually provide for regulated expansion.
Then why do the powers that be not make plans and let the city grow? Well, one can't ask a bureaucrat that; vectors of power and politics have to be understood for that. But residents can definitely make a cry for an opportunity to make the city grow under a "greater" masterplan.
Says Ramsekhar, any plan has to provide for a meaningful existence for all residents. Which means all aspects of life, like income and individual growth, and not just a clean living space.
Why no one has made a move on making further plans is probably because that is just where all the troubles and challenges begin. For all the competence that Le Corbusier may have had and all the pains he took, he's had his share of criticism. But that should not dissuade us, the body of citizens and administrators as a whole. Any expansion plan made in sincerity would be better than no plan, which is the case right now.
Rajvinder Singh Bains, a resident of long and a lawyer, feels whatever the plan, we must ensure that the city does not lose its livability, which is its most prominent asset. And this is borne out by a host of independent surveys that have declared the city among the most livable places. We even see people from cities like Ludhiana shifting to Chandigarh while carrying on their industries in Ludhiana.
The building of towns, big or small, from scratch is a costly proposition a poor country like ours can ill-afford, he feels. "Why not improve our existing villages and townships, using modern principles of town planning in rhyme with their natural layouts?" These could all be made well-connected and attractive, given their greener environment. Also, it would save money in terms of drainage, etc, as we would only have to improve existing infrastructure; no land acquisitions either. There would also be no wild experimenting in terms of planning.
As regards the expansion of the core city, there cannot be many alternatives, for it has necessarily to extend the existing grid. If architects and town planners can come up with improvements on that, it will be that much better.
Only one thing needs to be kept in mind. The principle of a breathing city should not be lost. We could maintain "lungs" at intervals in the expansion plan.
Ramsekhar also feels that the trend of the upper class moving out to greener suburbs could soon catch on in India too. It only needs promotion in terms of better connectivity to city centres. This could free a lot of property in the cities. Up to 80 per cent of the land is used by 20 per cent of the people. But the trouble is even the 20 per cent left for the rest is not optimally utilised, which needs attention from town planners. It is the Administration's job to ensure everyone finds a spot in the sun.
Challenges
The first obstacle to any expansion plan is the clash of interest that exists among the residents themselves. The early birds do not want late arrivals to vie for the juicy bits. Expansion would mean Chandigarh being described as something more than the Capitol Complex, PGI, and the cremation ground. This would "spoil the immaculate conception" for them.
Ramsekhar feels a major aspect missing in development plans is regional planning. All administrations concerned have to work on evolving a functional coordinating body—something on the principles of the National Capital region (NCR), though even that is not working ideally.
In making rehabilitation plans for the poorer sections, which have drawn criticism in Chandigarh for encouraging slums, he would want that those who benefit should have a stake in the city. At the same time, the Administration should not seem like a soft state, being made a fool of.
While he's not opposed to expansion, he would like it to be under a detailed plan, which is, more importantly, implemented strictly. So far, the Periphery Act has served its purpose, but only to an extent. More teeth are needed. The best of plans would be worth nothing if their bylaws are not implemented.
Expansions usually have meant acquisition of land. Earlier, such exercises have led to a lot of heartburn. Plans on making "new Chandigarhs" have fallen through most of the times on charges of unjust profiteering. Whatever the plan, says Bains, it should be made public long in advance and should be stuck to. Acquisitions, however, will have to be made, feels Ramsekhar, for private developers will not work for the poor. Though Bains would have it that the government should only act as a facilitator, making mandatory provisions for the poor, where necessary, while allowing private developers to work under a masterplan. Certain new areas developed in Ludhiana by private enterprise have come up neatly, and without much dispute with the original landowners, who stood to gain. Angrez Singh, president of the Pind Bachao Action Committee, Badheri, Chandigarh, says people whose lands are acquired should be offered equitable gains, whether in the form of money or land.
One major problem to be contended with, of course, is lack of political will or political will working in a wrong direction. Politicians have the potential of misleading people and obstructing bureaucrats. But the people of Chandigarh are among the more aware in the country; hopefully they would lead their politicians positively!
A dream
Plans may be functional, but ideals should always be lofty. Implementing an NCR (Delhi) kind of idea, the region could develop towns like Patiala, Ambala, Ropar, Parwanoo, and all areas that fall in between to draw a synergy for growth. There's no doubt that all neighbouring states stand to gain from the satellite towns, so there is no point in any state not cooperating.
All these spots of growth could have connecting highways, both asphalt and cyber. Moving across the network, a common man should not feel the hindrances and hurdles associated with crossing state borders. After all, if the European Union could do it, why not states of one country.
As for economic growth, rather than experiment, the city could further promote tested fields like education, research, tourism and the IT sector, instead of conventional industry.
To complete the dream, it would be nice to have a representation of all states (a la foreign missions) in the only possible metropolis of the region.
This way or that, it's the beauty and spirit of the city under threat. Urgency in action is the need.